Euphoric synths and naturally evocative vocals guide listeners into the warming embrace and juxtaposed longing of the brand new single from San Diego's Matthew Phillips Band.
Rising up from a simple, colourful array of synths and a raspy, expressive vocal thread, into the full-throttle uplift of an EDM-soaked downpour of layers and passionate peaks, So In Love openly celebrates the unrivaled power of love in unison with referencing the painful ache of missing it.
Featuring Matthew's own powerful and genuine vocals, as well as a sublime electric guitar solo, So In Love effectively blends genres with fearless commitment to the cause. All of a sudden we're immersed in this soul-rock realm of live performance, before connecting again with those awakening and now unmistakable synth melodies as they rain back into view.
It's an explosive and addictively energizing arrangement, from a songwriter, musician and creative team at the very top of their game, and it speaks volumes on behalf of the passion and artistry that we can expect from Matthew Phillips in the coming months and years.
Following the release of So In Love, the Fender artist himself kindly stopped by to talk all things creativity, live performance, partnering with the big brands, connecting with audiences, and plenty more. Here's the conversation in full.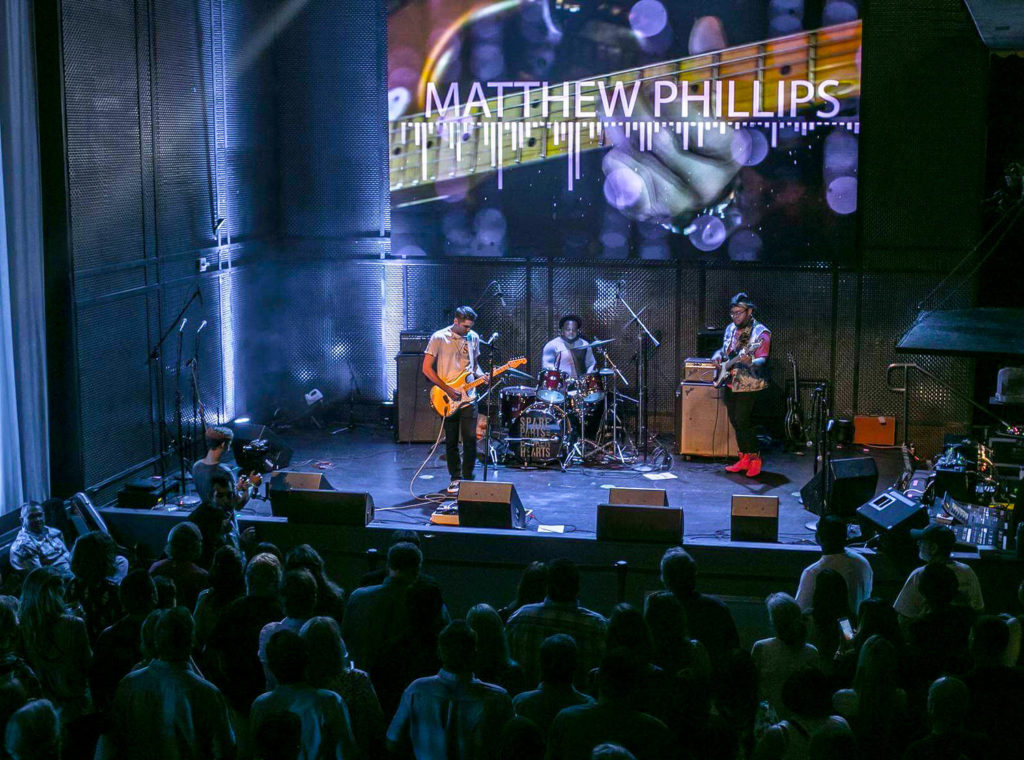 * * *
Hey – thanks so much for the interview, and huge congrats for the new single! To introduce things, where are you based, and what have you been busy with this past week?
You're very welcome, and thank you for having me. It's been quite the journey to get this song released. I am based in San Diego, California. This week we have been in the studio and just finished our newest production Time Fades Love.
Tell me about So In Love – huge production, huge chorus, an unexpectedly danceable peak?
Thank you for the kind words. I work with an incredible team of creatives. Jerrell Ayran was the first one to get the track to feel great. He did something rather unique with the BPM that gives the chorus that lift.
Joel Piper (Farmhouse Studios) put his signature on it with his drums, his vocal production, synth bass line, and pushing me vocally in ways I would have never attempted. It made this song what it is.
One of the best memories I have is playing this song at an all-age event. The little musicians attending the event ranging in ages anywhere between 6, 8, 9 and 11 we're all pounding the floor in unison to the drums. It's amazing seeing the way this song gets people moving.
How important are lyrics to you as an artist and how do you balance the deeply personal with the broadly accessible in order to connect?
Lyrics tell the story. Lyrics and melody are what people connect with.
I wrote this song about that feeling you get being So In Love. The things we are willing to do in that state of mind. When we are in love, we can get rather silly and act out things we wouldn't normally.
"Love is such a powerful force in our world. It can be the best feeling ever and also be unbelievably painful when things go awry. This song speaks to the ups and downs of a relationship."
An incredible thing about music is when people take a song like this and make it their own. I have my story as to what it means to me.
When we play it live, people will tell us it reminds them of "their quarantine romance". I am honored to create music that moves people in any way. I do my best not to think of it in that way. I write what feels good and try and develop melodies that I can't stop humming in my head.
In the studio we try to do our best to let the creativity flow and not let anything hinder that creative push. "The audience only knows what's come before" Rick Rubin. To bring an idea or sound to life that has never been heard is a challenge. Pushing through the self-judgement and the opinions of others is liberating. When I get a song to a certain point and get excited to share it with others, that's when I know it's ready.
How did you come to partner with the likes of Fender, and what does a connection like that bring out in you as a creative and performer?
My A&R, Billy sent me a message one day. We connected and the rest is history. It's always been my dream to be a Fender artist.
"Eric Clapton, Prince, SRV all play Fenders. Being a part of such a roster is an honor and something I only dreamed of. They were actually the first ones to believe in me very early on in my career and that's something I will never forget."
Do you sit down to write acoustically, and is there a potential for any unplugged performances – either at shows or in social media clips?
While I play acoustic for a few songs in our live sets, it's not where I feel at home. I really enjoy creating a show with big moments.
My Strat and Falcon allow me to express myself in ways I just can't on an acoustic. My guitars turn into a form of expression that give me another voice.
Production is really important to me. When we get a video wall and can sync a visual with what we're playing live, it's the ultimate way to experience music.
How important is live performance, and how is it in San Diego lately?
In the same way Christopher Nolan would like the viewer to experience his art in the theatres, live performance is where we want the audience to experience our art. We put everything we have into every live show. It's what we live for as musicians. It's the purest form of expression and the way we intend for the audience to experience our creations.
We just had a single & music video release concert on July 2nd and I couldn't be more thankful. The love and support was electric and one of our best shows to date. We had some incredible life changing moments at the Del Mar Fairgrounds and this was yet another. San Diego is our home crowd and we always love seeing everyone.
Is there a longer project on the way, live show exclusives you can give us?
We are working on completing the full album now. We are 1 song away from completion. We just finished our song Time Fades Love and I'm so excited to release it. There are so many good songs on the album so it's going to be difficult picking a single that can follow So In Love. The only way to see what happens at the live shows is to attend.
* * *
Grab the music here. Find Matthew Phillips on Instagram, TikTok, Soundcloud, Facebook & his Website.