Creative electro-rockers Lie To Life are set to release their debut single in the very near future. We were gifted the opportunity to interview them about their music, their journey so far, and their hopes for the future. Here's the conversation in full. 
* * *
Hey – thanks for the interview, how is 2019 treating you so far?
Great actually, everything is coming along like its supposed to. 2019 will be a big year for Lie To Life. Thanks again for this interview we really appreciate it.
No worries, our pleasure! What can you tell us about The Girl You Loved?
This song was written to basically paint a picture on the world's relationships from different points of view. This is basically like an "it's not you, it's me" perspective. Mainly to suffice the guiltiness.
Will you be creating a video for the release?
Most definitely, once everything is done and it is fully produced we will begin working on a video to release the song in an excellent way to the public.
You seem to bring together elements of EDM and punk-pop alike on this single – who or what would you say are your main influences creatively?
Each one of us in the band brings our own influences, such as: I See Stars, State Champs, Papa Roach, Waterparks, Bring Me the Horizon, and As It Is.
When did music first become an important part of your lives?
Wayne (Drummer) – At the age of 12 I had lost my grandpa and turned to music to help cope with everything I was going through. Ever since then I've be very invested in music and making it.
Jade (Vocals) – I would definitely say the middle school era of my life. That was the time I could really indulge into what kind of music I was into. It wasn't really until high school, however, that I began writing music just messing around and then I really stated writing about things that were personal for me.
Kevin (Guitarist) – I was about 8 years old and I was listening to every genre at the time. It wasn't until I was playing an old Hot Wheels game on play-station that I really invested myself into music and knew where I wanted to go with it. The song that was playing in the game was Fuel by Metallica – at that moment I said "I had to, and wanted to do it – make music like that."
Tyler (Guitarist) – When I was 8 or 9, I started taking guitar lessons and really getting into it. I always knew I wanted to make music from this point on, just never really knew how to get everything going as the years went by. I was always making new riffs and songs on acoustic guitar. So I took to YouTube and started doing covers and just practicing as much as I could. After a few years of YouTube I knew I needed to find a band that I could play with.
What prompted the band to start making music together, and what's the songwriting process like?
It actually started by Tyler and Wayne meeting at a car show and talking about how each other played an instrument (no idea how it actually came up, lol). They decided to get together and just jam, Wayne playing drums and Tyler on guitar. They clicked instantly and had a few friends come over and everything went together from there.
As far as the songwriting process goes, Jade always picks what she wants to write about first and then starts to write a chorus before everything else. She does this to get her point across as to what she wants the song to be about. She always has a lot of sloppy copies. She continues to build the song outward. She likes to relate to personal issues so many listeners will be able to relate to the song with her. Literally writing everywhere she goes. If we have any riffs or anything we have been messing around with we record some and send Jade a copy to write her songs around.
How did you come up with the band name – what does Lie To Life mean for you?
Everyone of the original members in the band has gone through depressive states at some point in our lives. So we sat down when we first formed 4 years ago and figured that a lot of times, to get through tough times was to "LIE TO" yourself to keep you motivated to move forward in your "LIFE."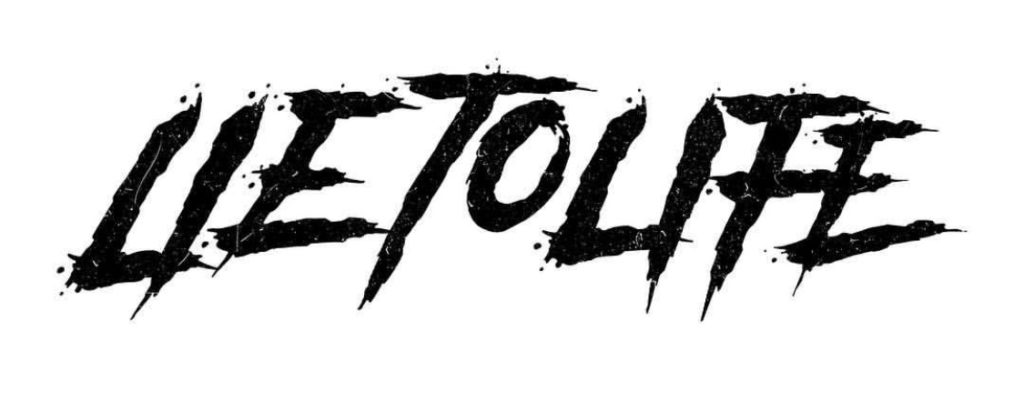 Will you be performing live or touring this year, and if so – what can audiences expect from a live show?
Honestly, we played on a Ouija board and it said we'd be playing shows this year, lol. Right now though we are focusing on getting a CD done and releasing it to the public. If we were to start touring soon and playing shows soon we would definitely need the audiences to be ready for the ride of a life time and to always be ready to dance and jam out with us concert after concert.
How is the live scene over in Michigan right now for this kind of music?
The live scene is killer. We have a few different bands that are absolutely killing it right now that are from here. The state itself has over five amazing venues to offer that are absolutely incredible to play at.
Is there a longer project on the way?
Definitely, we are constantly working on new stuff every week and trying to get our ideas recorded and put into the works. Definitely a lot more to come for everyone.
What are your hopes as a band moving forward – what's the bigger picture?
Right now we are doing what we love and we are having a great time with that. We feel like as long as we don't forget why we are doing it and how it makes us feel, then we will continue to do great. As for the bigger picture; we are hoping to do some big tours and festivals in front of big crowds having our songs sung back to us.
If you could share a stage with anyone at all, past or present, who would you choose – and why?
Tyler: Papa Roach – Their music got me started into pop punk as a genre I would listen to. I've been hooked ever since and would love to share the stage.
Jade: State Champs – They put on a GREAT show and always look like they are having the best time doing it. The energy on stage is insane and it reflects on their crowd every time. That's the kind of energy I hope to bring.
Kevin: Muse – A lot of their songs have an emotional pull to me along with how energetic and overwhelming their stage performances are.
Wayne: Beatles – Ringo Star, in my opinion, was the best drummer of the time and I would love to have gotten pointers and jammed with him and the rest of the Beatles.
What are your thoughts on mainstream music right now, and your hopes for the future of rock?
Personally we think a lot of songs are overplayed on the radio but we definitely love the mainstream influences to us. It really helps our sense of direction and gives us motivation to where we want to be. As far as rock goes, it is definitely making a come back in an amazing way and is always getting better.
What's something about the band that nobody knows?
We are always very competitive with each other, especially in the game of ninja, lol. Also before Jade and Kevin joined the band – Jade this year and Kevin 2 years ago – we went through 3 vocalists and 3 guitarists. Tyler and Wayne are the only original band members.
What's the best way people can support you?
Our Instagram is the number one place. We are always trying to post on there and constantly trying to connect with the community. Definitely follow us and stay tuned for some awesome music, giveaways, and new merchandise.
Is there anything else we should know?
Our first single is expected to drop at the end of the month and we can't wait to get this EP out to you guys.
* * *
Find & follow Lie To Life on Instagram.