Following the release of his brand new single and video Feel It, we caught up with fast-rising artist and rapper KudaThaKidd, to find out more about the music, his journey so far, and his plans for the future. Here's how it went.
* * *
Hey – great to chat with you, love your music. For those who don't know, how long have you been making original tracks, and who or what first inspired you to start?
I've been making music for about 6 years now and my inspiration was driven from growing up with brothers who are passionate about anything they do and they both are talented musically, I just found myself recording myself when my brothers weren't home when I was like 8, then grew into liking my own music and eventually I was just in the studio a lot.
You've released several projects already – which would you say best represents your current sound for new listeners?
I think my latest song is one that defines me or my sound. It's raw, its real, abstract, wavy and has emotion behind it and I think people will love that about me. My last project Serenity has a lot more of that emotion and realness and it was the most fun to make.
What can you tell us about Feel It – a quality track, with an impressive video to match. How did this one come to be, and who worked on the visuals with you?
The song itself came from my own experiences. It's one of those songs I made in under an hour because every lyric that came to me wasn't prewritten or thought of but from my heart because I (feel it) and as human beings I know there are people that can relate to it so I just went to the studio and got the song done.
After the release of Feel it, my team and I contacted Cordell Jomha, one of the most talented videographers I've been lucky enough to know personally and I wanted his creativity and energy to make that video happen. I remember telling him multiple times at the shoot as we brainstormed ideas and scenes that I want the Feel it music video to be the best video his ever done and I think he put his all into it and delivered.
How do you decide whether to come out with a good-vibes anthem or something a little more personal, like No Bad Habits?
I know that I need some balance between songs I can perform and make the crowd jump also songs that may be something you play when you are in a bad/good place to uplift yourself or to not feel alone. When it comes to deciding how I come out with either it's all about how my own energy is. I've tried to record a good-vibes anthem when something was bothering me and it didn't really feel right and vice versa so I just follow my energy, every time I do that, I get the best of myself and I'm always satisfied.
What's your song writing process like, and what are the main values you hope to bring to the scene?
My recording process has to do with the vibe around me, my creativity shines most when I can be in the studio and I zone in also the right instrumental is crucial. After that things just fall into place, I've also stopped writing music on my phone or paper so that way I'm always and constantly finding lyrics from within and not my head if that makes sense.
My values are a lot more personal and having a younger brother who looks up to me, I want to be the best role model to him and that can also leap into my artistic side. I hope to bring out being authentic, honest, self-disciplined in my lifestyle, show gratitude always, be humble and always keep family first.
Do you ever worry about getting too personal or emotional with your music, or is that the key to connecting with your fans on a genuine level?
I try to show my emotional side, something I feel like in RnB/Hip-hop there aren't many artists that do so. I don't think I would ever worry about being too personal because I know every single human being feels the same emotions I do, I'm just different in that my music is sort of my dairy.
How has your style evolved over time, and are there other areas of creativity or other genres you'd like to experiment with in the future?
YES, after 6 years you learn about yourself a lot and still a lot more, I want to discover about myself and I doubt I'd ever do anything outside of RnB / Hip-hop for my own projects but if I got the opportunity to work with someone outside my genre I'd love to, I'll always want a new challenge.
Is live performance a big part of your plans, and if so – what are your thoughts or hopes going forwards after a largely isolated 2020?
Yes, the last two years I've gotten a chance to do a lot of shows and even had a set on at a show for Lil Mosey's tour and was looking forward to more gigs this year until everything went to shit!
Going forward I'm excited to eventually be able to perform, I know people will desperately want to go back to attending shows and have fun, so I'll be there for it. As of now I guess this is an opportunity to keep working and have more music in my catalogue and reach new fans.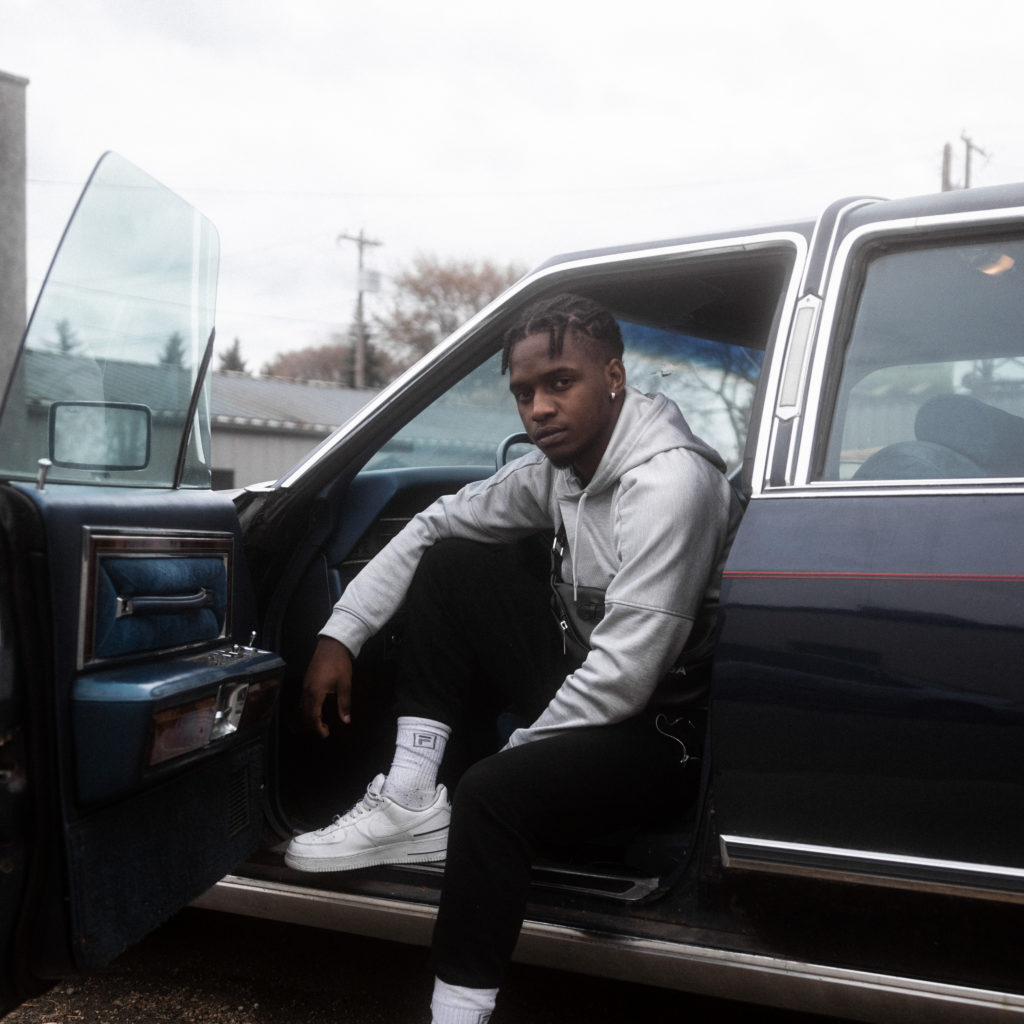 Where are you based, and what's the live scene generally like there for indie or upcoming artists?
I'm from Edmonton, Canada and the scene here is nice, lots of upcoming artists and producers and it's a whole community of us and lots of talent here. Music scene has growly drastically in the past few years and a lot of mainstream artists from different genres come here for shows, there will be more names you will hear from here and I'll be part of that!
What's the dream for you, and is there a particular event or venue that you aspire to perform at?
My dream is simple. I am going to have one of most loyal fan bases and whether that's 10,000 people or 1,000,000 people, I find happiness in knowing that I can create something that someone else values dearly and can push them to be persistent in their path in life.
What's the best piece of advice you were ever given in life?
The best advice I've ever gotten was to just do me. Social media creates a fake reality, and a lot of people are stuck in it. My brothers have told me from early on that the only thing that matters is what I do with my time and my life, as well as not paying attention to the outside world's opinions and let it affect my judgement. Those two things I think keep me whole, happy and working towards anything I am doing.
Is there anything else we should know?
My music video for Feel it is out now on YouTube, we are over 10k and still growing rapidly so go check that out. I'm just grateful to have the people I have around me and thank you for having me and wish you the best of luck.
* * *
Download the music via iTunes. Check out KudaThaKidd on Instagram.