EDM veteran and long-time performer Kid Loose has recently released two brand new original dance tracks. We were blessed with the opportunity to interview him to find out all about his musical journey, his plans for 2019, and his hopes for electronic music in the future. Here's the conversation in full. 
* * *
Hey – thanks so much for the interview! How has 2019 been for you so far?
Pretty amazing so far! After taking a fairly long hiatus to focus on family, I managed to spend a fair amount of my free time in the studio and started re-connecting with some old associates in the industry. Had a great response when I played again on Ghetto House Radio, and now I'm starting to play out in front of people again, which is a great feeling after all these years. Not to mention I FINALLY released a couple tracks of my own, which is exciting in and of itself.
You've been making music and performing for 20 years now – what have been the main changes you've noticed in the industry or within the scene during that time?
Slight correction, I've been performing for more than 20 years now and only recently started producing my own tracks. With that being said, the biggest change, by far, is technology. It's changed the game completely. The way events are promoted, the costs associated with said events, and the way entertainers perform… all of it. It's lead to some talented people getting recognized who might otherwise not have been, but it's also lead to an inundation of "talent". So instead of seeing a newer DJ who has had to practice, invest money and time into his or her art form, we are left with DJ John and Jane Doe who own a Macbook, downloaded free beat matching software and are essentially running their iTunes playlist in front of a crowd.
It's almost the equivalent of someone who's good at Rock Band, deciding to take that toy on stage and then pretending to play said "guitar" in front of the crowd. A sea of talented people become even more lost in the masses. The flip side of that equation is now traveling to a gig doesn't require an assistant to carry all the record bags… which is nice.
How many original tracks have you released to date?
Two, completely original tracks: Fugazi Flute and Hallucinations. Both were just recently released worldwide. I've also released two fully licensed mix compilations through Ultra Records… but that was a while ago.

Fugazi Flute is excellent – how did it come to be, where did it start?
It actually started way back when I worked at Energy 92.7 in San Francisco (2005-2009). I was exposed to so many cultural variations of house music, all of which had their own distinct following. I watched a friend of mine essentially bring these separate mini-worlds together in a series of events produced by "World Town" and that was my inspiration. I also drew from a French pop-artist named Jain. I took that initial feel, added the main ingredient (heavy bass line) and went from there. It took a while before I was ready to put my stamp on it… I'm a super picky DJ when it comes to track selection. So when I listened to it and thought, yeah, I'd play this in one of my sets… I knew it was finished.
Do you ever make music organically – do you play instruments or perform with acoustic elements?
Haha… no. My family is quite talented, brother plays drums and guitar, dad plays guitar and various other instruments, so I've been around music most of my life. My ADHD never allowed me to focus enough to learn how to play an instrument. I did start to take lessons on Sax, Trumpet and Drums… just never completed them.
What's your main plan of action throughout the rest of 2019?
I intend to keep making music and trying to get myself booked at clubs and festivals around the world. Real ones though… none of that Fyre BS.
Do you have any big gigs or appearances coming up?
No, in all honesty… Nothing yet. But I'm hoping that changes soon. I'm at least having conversations with a few promoters, but I'd rather not jinx it until they are finalized.
How do you make sure to engage and appeal to an audience every time?
EYE CONTACT. It's always been about making that connection with people for me. If I'm just dancing around on stage to my own music and not interacting…then I'm not connecting. It's a little way to say thank you for your support, to those who are truly supporting what you do, right in front of you.
Also, I don't pre-plan sets or pre-program. Every crowd is different and every venue is different. I'm always ready to go any direction the crowd dictates. Reading the people is another one of those basic skill-sets that is sort of getting lost in technology.
What has been one of your most memorable or life-changing experiences as a producer or DJ so far?
Most memorable is tough to say. The first time I played with Lady Gaga was pretty damn cool… but blowing the roof off of Ruby Skye when I played with Benny Bennassi for Pride Weekend in SF has to be right up there too. But probably the most life changing for me goes way back to the rave days. There was a venue in Oakland CA known as Home Base (because it was an old Home Base Store warehouse) and this place had several big rooms amongst the 8 total. The biggest probably held at least five thousand people. I went on with my partner in crime Rossi, for a 2×4 set. Place was packed and from the get-go, we couldn't pick a wrong track. 1.5 hours of non-stop crowd cheering. Absolutely killed it. I'll never forget that, because that's when I realized, that I deserved to be up on that stage with all the other talented people.
What inspired you to make the track Hallucinations?
I wanted something that was just a mover. Meaning, you started moving to the track, even if you don't realize it. A blind groove so to speak. I wanted something original, bass-y, and somewhat darker. As far as inspiration goes… lol, I'd prefer not to incriminate myself here… I will say that copious amounts of cannabis aided in the production of this track.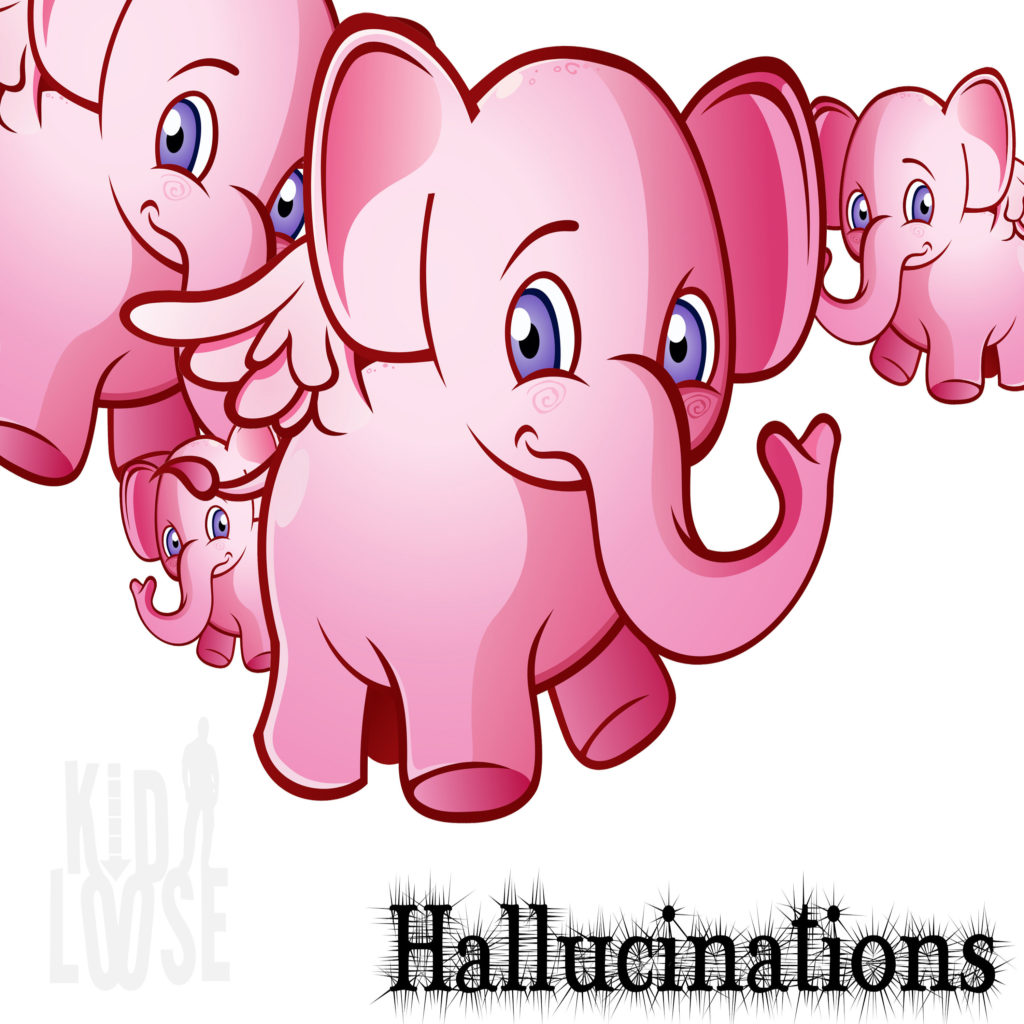 In what ways has your approach to making music evolved or changed over time?
At first I wanted to make a hit track… now I want to put out the sound I like and just see what the universe decides to do with it. My approach matured with time, like many things in life.
What advice could you give to new starters within the world of EDM?
Be you and be REAL. Don't make up BS stories to impress promoters. DO NOT burn bridges. If you are not okay with being judged by strangers, entertainment isn't your world.
GO OUT… a lot. Watch, support and encourage others that are doing what you do. When it's your turn, you'll want their encouragement and support. Might as well pay it forward. Nothing great happens overnight… I'm twenty years in and still trying, as an example!
If you could collaborate with anyone at all, past or present, who would you choose – and why?
That's a tough one… But probably Dr Dre. I'd love to watch a genius like that, to see the wheels in motion.. I think that would bring out the best in me. Don't get me wrong, I could see myself collaborating with several of the top EDM producers as well, but if I only get 1, send me to the Doctor please.
What are your thoughts on the current mainstream music industry, and what do you think the future holds for EDM?
I'm glad to see that EDM has secured a place within the mainstream… that wasn't always the case. I think the future is bright, provided the talented EDM producers don't get washed out by a bunch of schticky acts.
What's something about you that most people don't know?
I love playing in front of a lot of people, but I really don't like crowds…. If that makes sense. Also, If I can't put my heart into something, then I just won't do it.
If you could perform at any venue or event in the world, which would you choose – and why?
Venue – that's a tough one. I'm not too familiar with any worldwide venues, but I will say the biggest and the best around the world, that's for me! I really want to play Burning Man and Ibiza, Spain at some point in my life and playing the Super Bowl, dream come true!
Is there anything else we should know?
Be on the lookout for my son to make his DJ debut in about 10 years… "Kid Loose Kid"
Thanks for the opportunity!
: )
Ian
* * *
A big thank you to Kid Loose for his time & insight. Find & follow him on Facebook, Twitter & Instagram.