Following the release of their mighty new single and video Chapter One, we were blessed with the chance to interview the one and only Kay Azna & the Weapons of Mass Elation, to find out more about the songwriting, the style, the journey to this point, and their intentions as a creative act within the new music world. Here's how it went.
* * *
Hi Kay – great to chat with you, thanks for the opportunity! Love your sound – where did music begin for you, and how would you describe your approach?
So music began for me with elementary school choir and piano lessons as a kid. I have always had my hands in some sort of a creative outlet, so it doesn't surprise me in the slightest it's evolved to where my band and I are today, but it's been the weirdest story of "everything falling into place that's meant to" that's gotten me here. I actually went to school for military intelligence, with plans to try and work for a tri-letter agency post-graduation, but getting involved in creative outlets like working on film sets and modeling, while in college despite this degree path, and working other big name artists shows as they came through town… life clearly picked a new path for me.
What are the weapons of mass elation?
The Weapons of Mass Elation is the goofy nickname for the band as a whole that came to be after a weeks-long conversation with my friend Barry for my bandmates. We needed something with a kick so we could be more than just my name, and I figured we were all millennials, we all lived through the "Weapons of Mass Destruction" hype in the early 2000's, and ultimately it's just a really ridiculous way of calling ourselves hypebeasts and having an excuse to launch confetti bombs on people. People don't forget the name after they hear it, though, I can tell you that much.
Tell us about Chapter One – brilliant set-up and songwriting, nostalgic yet fresh, faultlessly performed – how did the song come to be, and what was the process like?
Why thank you! So this song originally started between myself and my friend Jonny back when I was still living in Virginia, where he had created some compositions and I helped primarily in the lyrics and vocals department. (This is actually the first of several we've written together you'll be hearing on the upcoming record.) It was originally about an ex boyfriend and my embarrassing myself trying to win him over, but after that relationship went south and I moved to Tennessee, it got revisited and reworked into a song about some of the characters I've met on dating apps over the years. So yes – Prince 1 thru 6 are all real people, not just something off the top of my head.
This song I had the pleasure of originally reworking to more of a radio-friendly length with Ken Caillat about a month prior to my impromptu move to Nashville, and then a little bit of the arrangement has changed since starting working with a band and changing a couple band members around here in Nashville to what you now hear today!
Great guitar work, brilliant vocals, and the drums sound insane – is there a live jam aspect to your creativity, or is everything pre-programmed?
Thank you! So everything you hear on that song is live vocal and instrumentation. While I'm not opposed to pre-programming to bring certain styles of songs together, all of my band mates can play more than one instrument, so we like to try and utilize everyone's talents whenever possible!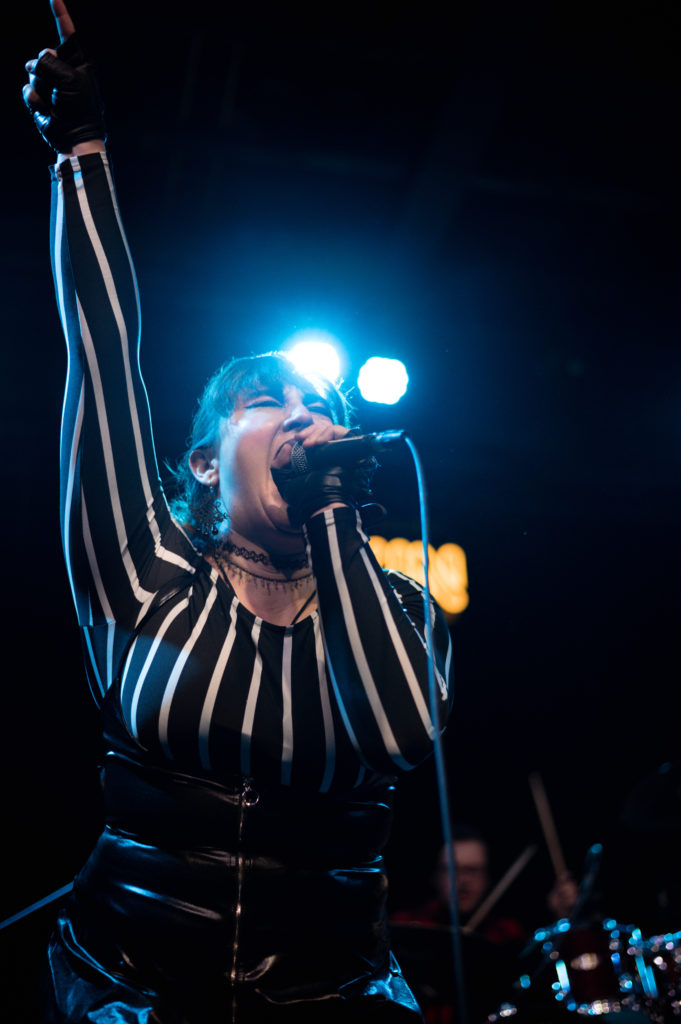 "I'm in a primarily male dominated genre, where women are generally expected to be dainty, submissive, and obedient. That's where the savage aspect comes in. If he can say whatever and you hear him loud & clear, don't be shocked if I'm louder."
You define your style as 'Savage Provocateur of Rock N' Roll', what does the provocative aspect entail for you?
Provocative is more than the typical meaning of the word here. I like to send a message that forces someone to connect and think about what I'm saying in a song, not just another mind-candy type jam that gets pumped out a lot these days. So yeah, I wear a lot of sequins and rhinestones, and am particularly flashy in the typical sense of provocative, but it also simultaneously got you to click with the fact I'm not here to be background music.
As a performer you're influencing your crowd, and if I can influence someone to think about things they don't generally, like the perspective of a mother protecting herself and her kids in one of the upcoming tracks, or the mental breakdown process when your life flashes before your eyes in another, then I feel like that helps us better understand each other as people, not as red, or blue, or purple, or whatever label we throw on ourselves in society anymore.
I'm not going to censor myself if it could mean we are able to form better connections through hearing each other out, and with music you're consciously and subconsciously listening to what's happening. Not to mention, I'm in a primarily male dominated genre, where women are generally expected to be dainty, submissive, and obedient. That's where the savage aspect comes in. If he can say whatever and you hear him loud and clear, don't be shocked if I'm louder.
You bring a unique background to the rock world – what are your memories of the Megastar Millionaire days, and would you do anything differently if that experience came around now?
Oh gosh. Megastar Millionaire – I feel like had it's blessings and curses for me. I will say though it unintentionally trained me on how to navigate a primarily online audience before streaming blew up in the pandemic a few years later, so when I got into the streaming shows on BIGO a year prior to the shutdown, I was already pretty well versed on how to navigate performing to a digital audience when that was the only way we could perform for awhile. It also showed me I could have listeners in more than just my small town, and encouraged me to get out more and try it on a bigger scale.
Would I do anything differently now? I don't know. My entire career has come together so randomly I think music probably would've happened regardless if we're being perfectly honest. I joke one day there will be a documentary on me and it will be the most ridiculous thing you ever watched with all the things I've gotten myself into.
How do you think early exposure to a broader audience has impacted your creativity and confidence?
Definitely. I'm not working at this blindly like a lot of artists are going into this. I've been fortunate to get to work with and get to pick the brains of some of the best in the business over the years, so I have a pretty clear sense of direction when it comes to who I am as an artist and what we as a band have on the to-do list to achieve our goals. So even on the tougher days I'm still pretty confident because I can see the pieces coming together like they're supposed to.
What was the best thing about moving to Nashville, and on the flip side, what did you find the most difficult about the change?
Oh gosh. I feel like the best thing is the sense of community out here isn't anything like anywhere else I've played music. You get the best of a small town mentality with the benefits of a big town. Everyone knows everyone which is pretty fun too, so it's not like any opportunity is too far out of reach.
The most difficult thing though – I went from $550/month rent for a 1 bedroom apartment in Virginia to a now $1365/month rent on a 1 bedroom. The price difference had me scared the first month I was out here since at the time, it was double what I was used to, but I've managed to figure it out, even though some of these places are now losing their mind with inflated prices, if I'm being completely transparent here.
Your sound blends aspects of Skunk Anansie, distortion and melody, with the more pop-punk and new metal acts of the past two decades. Who were your biggest influences, and who still inspires you today?
I mean, I was definitely more on the scene end of the emo kid spectrum growing up because where my circle of friends wore a lot of black and skinny jeans, I was the one in neon and loud prints to the point my track coach once told me I hurt his eyeballs (all in good fun, before anyone looks him up and says something about it). So like definitely a lot of Evanescence, Paramore, Avril Lavigne, MCR, and Fall Out Boy inspo from high school in our sound for sure, with the loud and crazy visual aspects inspired by both Lady Gaga and Kesha. I'd honestly say they still are on my list of inspiration, along with Alice Cooper, Motley Crue, Kiss, and some of the more out-there rock acts before who I listened to in high school.
What would be the best piece of advice you could give to new musicians and performers looking to find their sound and secure their role within the scene?
Stop trying to be everyone else who's been successful before you. Seriously- we all see you doing it, and it gets old and forgettable quick. Be you. Even if people gave you crap for who you are for whatever odd reason before, you distinguish you from everyone else trying to be Carrie Underwood, or Britney Spears, or whoever else you admire. If you're trying to be an original act – be just that. Original.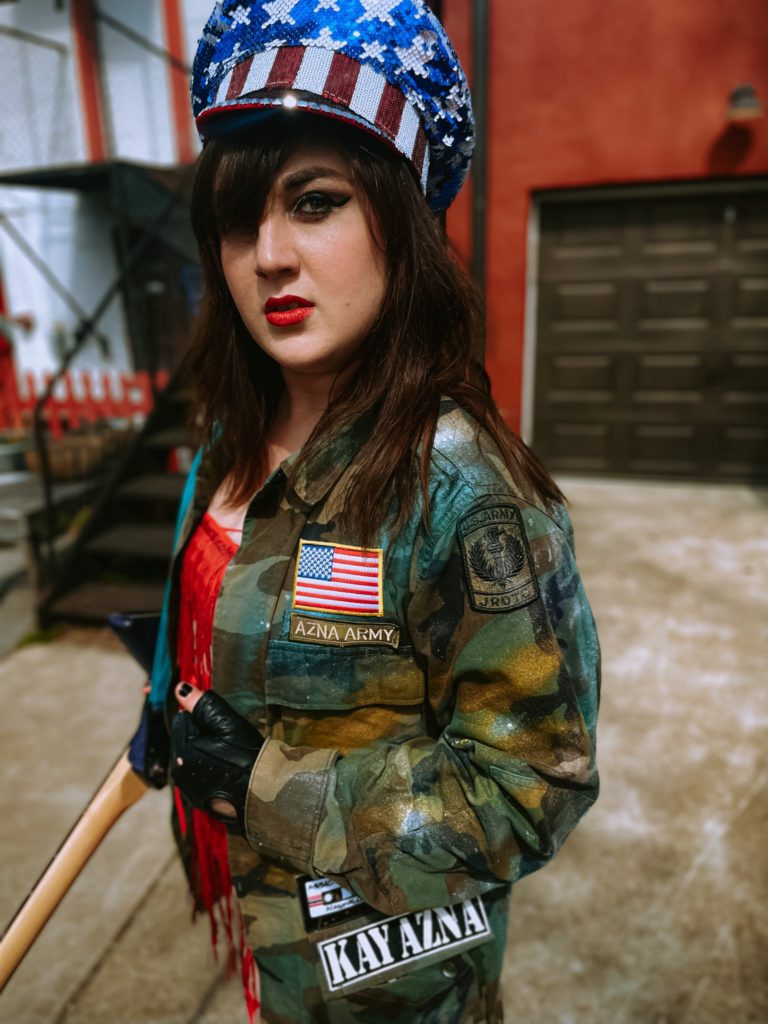 "Even on the tougher days I'm still pretty confident because I can see the pieces coming together like they're supposed to."
What's something about you that people might be surprised to hear?
I've appeared on a lot of TV shows to pay the bills. I was on House of Cards for 3 seasons, I was in a season of Tell Me A Story, and I've been in the studio audiences of TRL, The Late Late Show, Beat Bobby Flay, and even Miss America if you're ever down to play Where's Waldo rewatching TV shows sometime. It's super random but my experiences with all of them were super fun and it was way more fun than a traditional job to pay the bills in college and fresh out of it.
What do you have lined up for the summer?
Recording, rehearsing for some tour dates we've got coming up this fall, and shooting another music video for the next single! We're gonna be announcing a couple summer shows here pretty soon- stay tuned to kayazna.com for the updates.
Is there anything else we should know?
A special thank you is in order to Skrewball Whiskey and The Long Drink for the delicious beverages in the music video for Chapter One out now, and to Donelson Pub for being so kind as to let us borrow their bar one evening for a quick shot in the video. Not to mention Austin Dellamano who crushed it with his video talents.
Also, last, but never least, a special thank you to my best friend & sister from another mister Kristen, who was so kind as to let us all practically take over her house shooting this music video. I think everyone who came together for this music video did an awesome job and the feedback so far has been fantastic!
* * *
Chec out Kay Azna on Twitter & Instagram or their Website.