Prior to the launch of their sixth studio album and first ever in the acoustic realm, it was a joy to reconnect with the one and only John Spignesi Band, to talk all things Roots and how things have progressed since our last chat. Here's the conversation in full.
* * *
Hi John, great to catch up – Happy New Year! You've got a brand new studio album set for release in the coming weeks. What can you tell us about Roots – what's the idea behind it?
Great to talk again! Happy New Year to you and yours as well. Man, I'm stoked to start off the New Year with something new and fresh for everyone's ears. I feel really good about it and the band does too. This is by far our best work to date.
I spent most of March – April 2020 writing. There wasn't much else to do because of…well you know. I don't think I really anticipated the album being entirely acoustic, it just sort of happened.
The title, Roots obviously acknowledges the old-fashioned style that some of these songs have, but it goes a bit beyond that, at least for me. There's been so much crap that has happened in the last year or so. Some of the subject matters are heavy and get down to the "root" of the issues we are facing as both a country and a global species.
As far as the band goes, in the past for stripped down gigs we've taken the approach of taking electric songs and "acoustifying" them. I'm not a fan of that. Maybe people can't tell, but for us it felt like something was missing, you know? Some stuff simply doesn't translate over.
That being said, I'm excited that these songs are pure acoustic through and through. They were written that way and I think it's really going to come across in that regard. I love acoustic music. I grew up listening to bluegrass and folk and all of that stuff.
This is impressively your sixth studio album. When you think back to the very first time you recorded at Ace Tone Productions, what are the main differences between your mindset and abilities then, and how you manage the process now?
Working with Ace Tone feels like home. We've been working with Matt Terribile since 2017, and at this point, it feels like he is an additional member of the band. He's one of the best in the game, that's for sure.
In terms of growth, I think we've all settled in nicely to our roles. Terribile feels 100% comfortable giving feedback at this point and we know that he's doing it from a place of love. After all, his name is on this too. Joe (bass) and Matt (drums) are a beast of a rhythm section and they know when to cut loose and when it is time to lay back. In the end, I think we've all learned that the end result is to simply serve the song the best way possible. Whatever needs to be done to get the message and feel across is how we operate at this point.
For me? I think I've become way more comfortable with the recording process. Now this isn't to say I feel as comfortable in the studio as I do on stage; I wouldn't go that far. But I've become so much more confident as a band leader, and even more so as a singer.
Singing is weird, especially when recording. You listen back to a take and you're like, "That's how I sound?!" Over the years, I've understood more and more how my voice works and what types of inflections I can do to show emotion or grit. It's forever a work in progress, but this is honestly the best I have felt about my singing on a JSB record.
"Whatever needs to be done to get the message and feel across is how we operate at this point."
This album is purely acoustic – an exciting and fearless venture. How did it feel to record in such a stripped back fashion, and what do you hope the set-up brings to the listener's experience of your music?
Joe and I play a lot of acoustic duo gigs and one thing we always talk about is space. Acoustic music needs to breathe and trying to fill every second with a ton of notes simply isn't going to work. We tried to stay super conscious of this when we recorded this time around by using a lot of dynamics and really listening to each other.
In terms of instrumentation, Matt used a much smaller kit with calf skin heads that gave it a much more intimate and warmer feel. Joe played a variety of basses, but his upright bass made an appearance a few times, which I absolutely loved. I was on my Martin Acoustic the entire time. The Martin was a gift from my Father and I was so excited to show him how great it sounded on the finished product.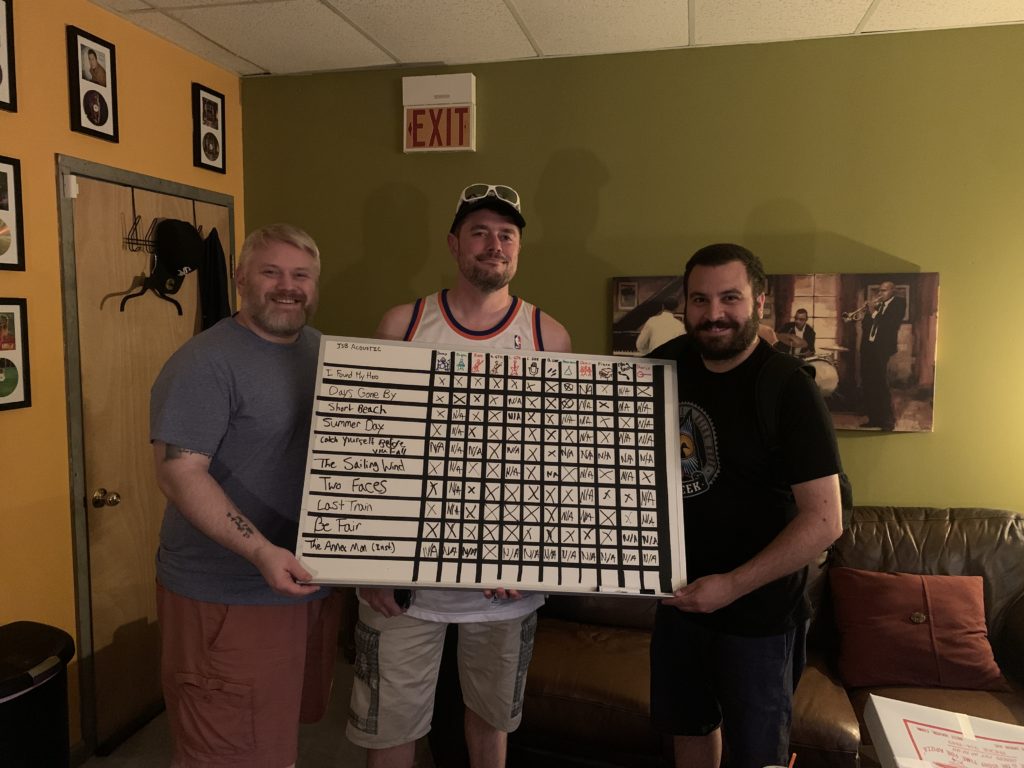 Did you find that you could inject passion and energy into your songs in a different way, without the use of distortion and volume, or was it a completely new process of performance for you?
It was difficult in the beginning for sure. I think these songs have way more of a singer-songwriter type of vibe, so honestly I was worried the passion and energy would be lacking. I spent a couple weeks prior just playing everything over and over and I came to the realization pretty quickly that the vocals would be at the forefront. The stories, topics, and the issues that we were going to address were important and they needed to be the main focus. As I mentioned earlier, singing is weird. I've always looked at myself as a guitarist first, vocalist second. But this time around, I had to do the opposite. I had to give everything I had into these performances in order to inject the passion and energy. I think it comes across strong in this album.
You tackle some fairly heavy topical issues on the album. Are you hopeful that we can redirect things as a species, and what do you think are the main steps we should be taking towards a brighter tomorrow?
One of my favorite lines that I've ever written and it's in the tune Days Gone By (which is on this album) is: "I don't believe in much, but I believe in people." It's simple, but it means a lot to me and that mindset hasn't changed. Call me an optimist, but I do believe people have the ability to be good and do good.
We're in such a weird place at the moment with the pandemic and the political divide, but I do truly believe that we have the ability to succeed and be there for each other. I spend a lot of time watching. I watch how people talk to each other, I watch how people navigate through this world.
I'm a Middle School Teacher, (Joe is a teacher as well although he teaches High School) and I spend a lot of time talking to my students about simply being a good person. I try to practice empathy and to understand that everyone views things differently. I don't think we're ever going to reach a point where everything is perfect, but that's okay because there's no such thing as perfection. As long as we are all actively trying to better ourselves, our community, and our environment, I think we'll be at least working towards something good.
Which song on this new album means the most to you personally, and why?
There's so many. There's some on here that are just a lot of fun, but as I mentioned some really get down to the root of an issue.
Days Gone By talks about the pandemic and all we've been through since March of 2020. I swear, some days it feels like it's been way longer than two years since all this chaos happened. Crazy.
Short Beach is a fun one that pays tribute to by hometown of Branford, CT. Not much more to say, but it's fun and it's got a cool vibe.
The Annex Man is the first instrumental tune I've written for JSB. It's a really pretty chord progression and it's for my Dad. He's a big influence on me not only as a musician, but as a human being. You won't find someone who works hard and loves life as much as my Father. He's a true gem of a human being. I got to play it for him not too long ago and it was a special moment seeing his reaction.
I could go on and on but every tune on the record has a special place and I think people are going to enjoy it.
"We're a band for the people. We know life has its ups & downs, and we're not going to pretend that it doesn't have those highs & lows."
Do you have any trepidation about releasing Roots, or are you simply excited to share it with the world – what goes through your mind as release day approaches?
Oh sure, I think it'd be weird if I didn't have any. I oftentimes get in the mindset of comparing what we're doing to others. I'm only human after all.
But deep down, I know that we're on our own path and we're carving our own way. I know our music isn't for everyone, and I don't expect it to be. What I am certain of is that some people find healing in listening and that they can relate to the things we're talking about.
We're a band for the people. We know life has its ups and downs, and we're not going to pretend that it doesn't have those highs and lows. As I've said before, if we can take you out of the chaos of the world for even a brief moment, we've done our job.
What's the best thing listeners can do to support you?
Listen, come see us, but more importantly tell us what you connected with. We truly want to know what resonated with you and why. That is the fuel to the fire.
Is there anything else you'd like to say?
It's been seven years and a hell of a ride, but I wouldn't have it any other way. I owe my future wife Melanie everything for her love and support in dealing with so many late nights and crazy schedules.
To Joe and Matt, thank you for following me on this journey. Y'all are more than just bandmates, but family. There's so many more people to thank but know that your words, comments and encouragement mean so much.
Finally, I've got to give a shoutout to Jimmy Jeffery, Joe's son. He played Piano on this record and let me tell you that kid is something special. Makes sense when you hear how talented both his parents are! But Jimmy is 17 years old and he's got an old soul. I have no doubt he's going to be successful in music, whatever his path may be.
Onward and upward. Be safe, be well, and be good to each other.
* * *
Check out the John Spignesi Band on Facebook & Instagram or visit their Website.