Singer and songwriter Idarose raises the bar once again with her superb and inspiring new single Different People. We caught up with the artist to find out more about the song, how things have changed for her creatively over the years, and what her plans are going forward. Here's the conversation in full.
* * *
Hi Idarose, thanks for the interview – how does it feel to release a new single this side of a tumultuous year, and now that there's genuine potential for live shows ahead?
Hey! It honestly feels liberating. This year has been tough on so many industries, but it was especially hard to not have live music to connect us all. Personally, I haven't released music in a long time because I was sort of waiting until all of it felt perfect and ready to go…but through the craziness of this year, I realized that it might never feel perfect, so what am I waiting for? The fact that people are connecting to my music makes me excited about the potential of playing it live.
Different People is stunning, perhaps your most uplifting and euphoric release yet, though it's also conceptually heart-breaking. What can you tell us about the song – how did it come to be, and how does it feel to sing it?
Wow, thank you so much. This record to me truly represents the dichotomy of feeling happy about a sad thing. Healing is such a complex process, and I feel very lucky that I can use music as a tool to do so.
Writing Different People felt like the light at the end of the tunnel, that emotional place I had been trying so hard to get to. I wrote a lot of sad/ angry songs as I processed the end of the relationship I went through, but this was the first happy song.
Robyn, one of my favorite artists and an icon of pop, does this so well – Dancing On My Own is one of my favorite songs ever. I wanted to make a song like that, something that felt celebratory even though it was not necessarily about a happy thing. To me, Different People is about way more than the end of a relationship – it's about finally getting to the other side of the healing process. I think it's magical to celebrate being alone, because while there can be sadness in it, being alone can also be so beautiful.
The production leans towards summer dance vibes, where do you imagine is the best setting for people to enjoy this song?
I definitely imagine people driving with their windows down listening to Different People in their car, at the golden hour. I think it's a song you can dance to with other people, but I think you can really also dance alone to this song, wherever your happy place is. When I wrote it, I think I was dancing to the first demo on the patio at my childhood home.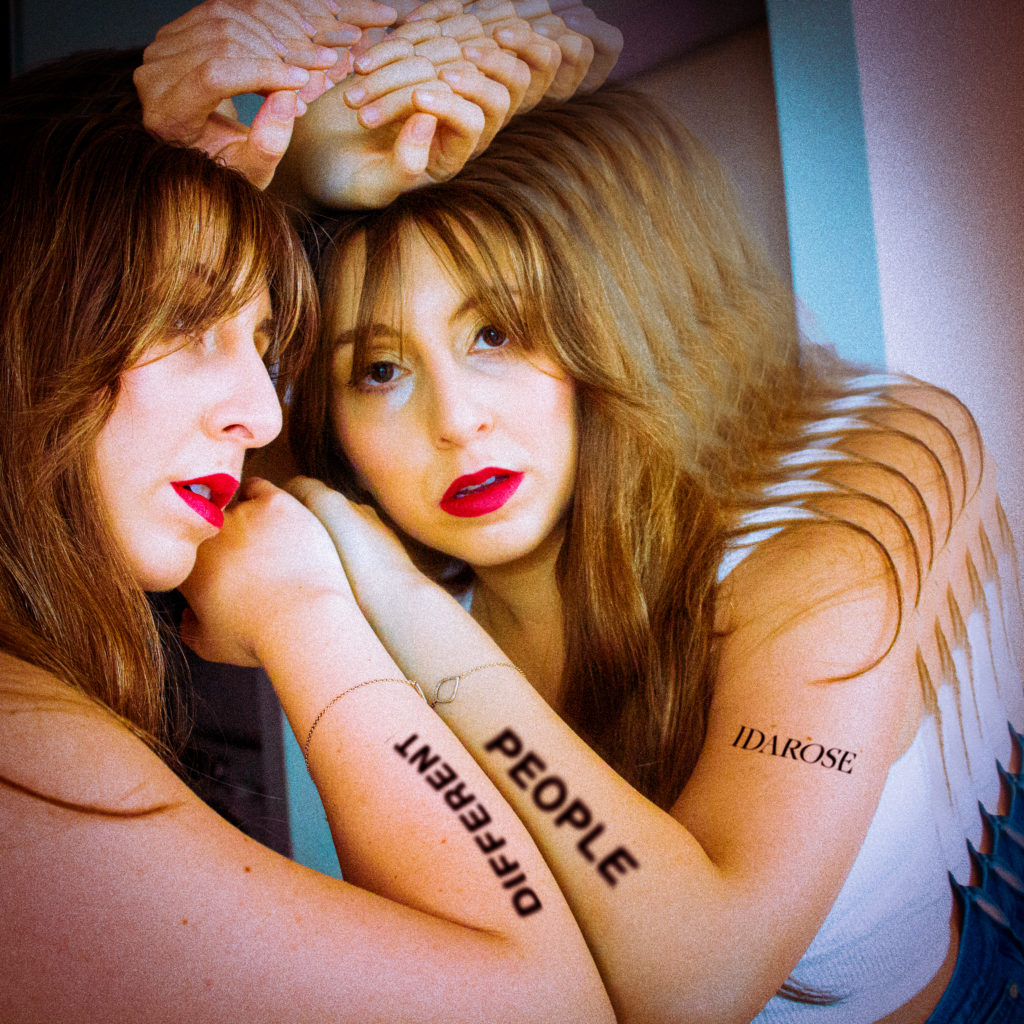 Your voice is beautiful on the recording, are you vocally trained, and do you think your voice has evolved at all as you've perfected your craft?
Thank you! I think my voice has matured along with my writing and production. As I've grown as a producer, I've learned more ways to make my vocals shine in a production. I went to music school where my voice really grew technically and also artistically, and through doing many sessions for my own artist project and as a songwriter for others, I've learned to stylize my voice based on what I'm working on. I think the combination of learning how to sing to compliment the music along with the technical skillset I'm acquiring as an engineer has allowed my vocals to shine more.
What would you say has changed for you as an artist since the Talk About Myself days?
I think since then, I've found my sound. Talk About Myself was me introducing the world to Idarose…the lyrics were raw, and the song felt like the beginning of discovering my artistry. Yet at that point, I wasn't letting myself fully produce my own stuff. I produced a lot of my next release, Psychic, and through that song, I was definitely getting closer to what felt most authentic to me. As I honed my production skills and let go of the notion that I needed to find the right co-producer to help me finish my music, I finally felt like the sound I so wanted to figure out was the sound I was already making in my laptop – it just needed some polishing. Different People is also one piece of a larger story, and I'm excited to finally bring people into a cohesive body of work that explores my heart and my brain going through the highs and lows of love and heartbreak.
What's the plan for you going forwards, what can fans look out for?
Different People is the end of a story that I'm just starting to tell. My next release is the beginning of that story. Through my upcoming music, you'll hear it all come together.
Can you tell us something most people don't know about you?
I'm an only child, which I think is a big reason I write music. I feel like only children are almost forced to have a big imagination as kids because we don't have brothers and sisters to play with. Ever since I was little, I've been making up stories, characters and scenarios in my brain, and I think a lot of my song ideas come from my mind being kind of like a movie studio.
* * *
Check out Idarose on IG.