Frank Roländ is a skillful and hard working producer and DJ whose mash-ups and releases are making waves online and at live shows far and wide right now. We caught an interview with him during his down-time to find out more about his musical journey so far and what his plans are for the future. Here's the conversation in full. 
* * *
Hi Roländ – thanks for the interview! For those who don't know, how would you describe your approach to making music?
Thank you for the opportunity! I am lucky enough to travel the world and do what I love the best, music. Making music is part of my everyday life, so it's hard to describe. Usually I'm just playing around with some melodies, bass or instruments on my laptop.
How long have you been making music, and who or what would you say has influenced you the most in your creative career?
More than 8 years now but I'm still learning. I think music writing is about finding yourself and.. just letting your fantasies & feelings take over you.
My first and biggest influencer is Tiësto. I remember when I was 17 and went to his show. That was the moment I started to learn more about the music genres and styles, and this is how I met with the sound of Melbourne. The unique sound of the Melbourne underground totally got me.
I cannot really pick out only a few names who influenced me.
What have been some of your most memorable achievements in music so far?
As I mentioned, I found my style in the Melbourne underground. However, it was just a dream at one point – to get there and meet in real life with the beloved underground scene. Finally, after 4 years of work I got invited to tour in Australia. I still remember the moment when I got the e-mail from Rhys… my first gig at St.James (Geelong)… it felt like a dream.
How do you decide which tracks you want to remix or work with?
It's maybe surprising, but I do not only listen to electronic music. Usually with the MashUps, I check which songs could match and then I mix them so I can fit them into my set.
About new tracks, I get ideas day by day – even just on my way to the shop to buy the groceries; maybe I hear some sound from the road and that makes me think about a new beat, then I'll create in my head some ideas for a new track.
You've included some heavy classics in your mash-ups over on Soundcloud – are there any areas or genres of music you're yet to dabble in but would like to?
I would love to make some classical / jazz(ish) music. I've tried many times, but always ended up with it becoming an electronic song.
Also, there are genres that I really love but I cannot imagine them in a more electronic way.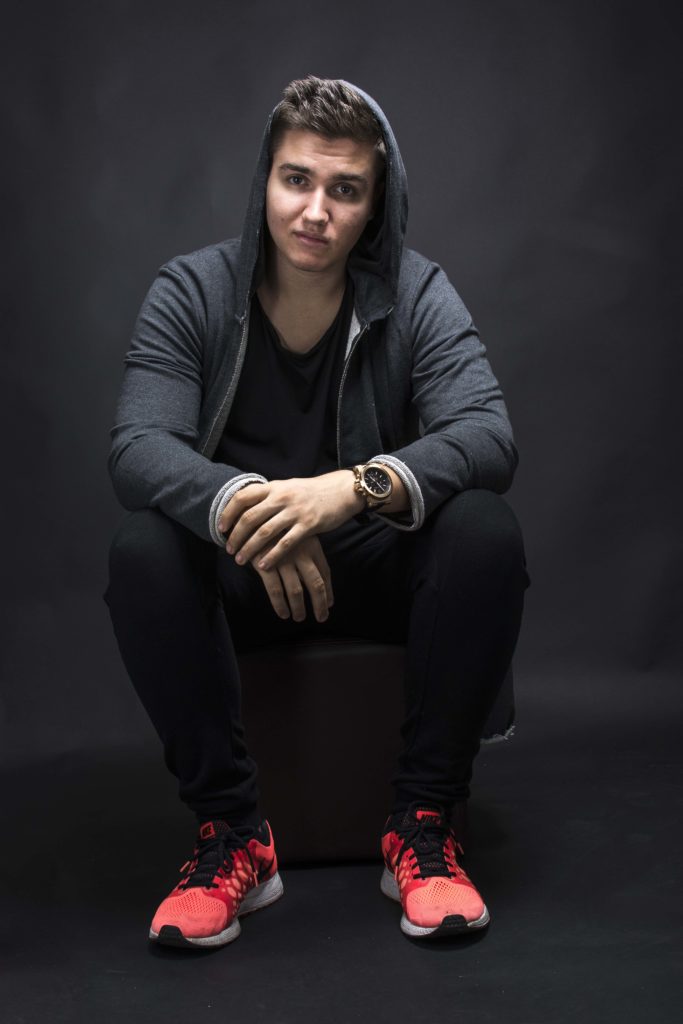 How important is live performance for you, and how do you make sure your set is something special and memorable for those who witness it?
Live performance is everything… when I am standing on the stage, it's already the dream itself – the pay-off for the hard work.
I am happy, excited and stressed at the same time. For 1.5 hours I switch OFF the world, the music and dreams are ON.
I believe being a DJ is a privilege, not a right…
I am always preparing for my sets, from club gigs till the major festivals. I believe there is no difference.
Everyone has problems in life, but when I'm on stage I try to make everyone forget and just enjoy the moment.
If you could perform at any venue or event in the world – past or present – which would you choose, and why?
I could say huge festivals, radio shows… of course, I would love to headline festivals like Tomorrowland.
However, the energy that you can get from the crowd after a sick gig is unreal. It's all about good vibes & good people, so I would love to perform anywhere in the world for them.
How do you get started when crafting a new beat, and how do you know when it's truly finished?
It's always starting with an idea, but not always as complex as you would say. Just a bass-line, just an instrument. Later, slowly, like Lego – building it till it has a shape. That's a critical point, because either I decide to finish it or put it into a 'drawer' for later.
Also feedback is very important for me. So whenever an idea is good enough ( for me ) I send it to my friends to see how they like it.
Truly finished music… it's hard. I think a producer will always hear and find the small mistakes in his own song, doesn't matter how good it is.
What's one piece of music tech or software you couldn't live without?
I really love Rekordbox. It gives a loads of extra opportunity to play a more creative Dj set.
In what ways do you expect the world of music to evolve over the next decade or so?
It's a hard question. I think music, especially electronic music, is changing a lot quite often. Nowadays you need only a laptop to create music, even without any musical studies you can create a banger.
It became hard to differentiate the music styles, new genres are coming, evolving… so, I'm expecting a load of new and exciting sounds!
What advice could you give to upcoming DJs or producers who want to develop their sound and their skills and build a career for themselves?
As Walt Disney said 'If you can dream it, you can do it'. There is no 100% sure way to success. Everyone must find his own way, but the most important thing is to find your own sound and build your network. If you want to play at a club – support it, go there as soon as you can, be open and start to be a part of the event. When your opportunity comes – be ready, prepare. Do not give up and love what you do. You will find the way, just believe in yourself. It is not easy.. but hey, you are the only one who can do it!
What's the bigger picture for you – what are your biggest aspirations over the coming years?
I'm working on my first World Tour with my team. It's super exciting! On the other hand, I'm working with some international artists at the moment, 4 collab tracks this year, and my first EP in 2019.
What's the best way people can support you?
To be active on social media. The more interaction we have, the better feedback we can make. So if you like music, support the artist by likes, comments or any social activity. It means a lot to us and it's an amazing feeling to see how the people react to our work. Without you guys, we cannot be where we are now.
What's something most people don't know about Frank Roländ?
I love hot chocolate. A lot.
* * *
A big thank you to Frank Roländ for his time & insight. Find & follow him on Facebook, Soundcloud & Instagram.