Following his second album release in just twelve months, we caught an interview with artist and rapper EarleyBird to find out more about the inspiration for Lone Nut, Great Oak – as well as to dig a little deeper into his musical journey so far. Here's how it went. 
* * *
Hey – thanks so much for the chat, and congratulations on the new album! It doesn't feel all too long ago that we first stumbled upon Original Imaginarium – in what way do you think your approach to this new album differed from the last?
Original Imaginarium was a compilation of songs from several different albums, and took years to compose and put together and was very thought out and laboured over. I created Lone Nut, Great Oak over the course of my winter break, I am currently in grad school, and I don't get as much time to devote to music as I would like during when classes are going on, so it comes in spurts when I have time off, I try to create a new project then. That is the main contrast, it is more immediate than Imaginarium.
What does the title Lone Nut, Great Oak represent for you?
It comes from a fortune cookie I received. "The Great Oak Was Once A Lone Nut Who Stood Its Ground". I feel as a musician, it's a matter of sticking to your guns and waiting it out, and eventually people will come around. When you have an original style, it can be daunting, but eventually that originality will be what sets you apart and makes you a "great oak".
How did you come to write the opener More, and what made you decide to begin with what is perhaps the most lyrically intense and compelling track of all?
I came up with the chorus while I was driving my car. I like the idea of a mantra, a repeated phrase that could be focused on. I also think music can do so much more for us than how most people use it, and it was a demand for us to demand more form our music and musicians, and from that to demand more from our society and psyches. I wanted to connect it to the entire evolution of man and the idea of growing through our evolution.
I get a strong sense that you read a lot and think a little more deeply on things than most – where do you generally get your inspiration from, and is there anything outside of hip hop that drives you creatively? (poetry, books, movies, politics, etc.)
I am at a point where most of the only hip-hop I listen to is from people whom I have known personally for many years and respect. I don't listen to the radio for music, I listen to a lot of older music. Of course, I listen to Billie Holiday, she is my favourite singer and a big influence of mine. I have 444 Billie Holiday songs on my computer and I learned a lot about rhythm and phrasing from her, even as a rapper. I have a tattoo on my arm of her, referenced in the song Lady Day. I think she is the best artist and person that America has ever produced. I also mention Ghostface Killah, Sam Cooke and Coltrane on the album, other favourites of mine in their respective genres.
I am influenced by so much it's hard to answer this question, but I think one of the problems with a lot of contemporary pop music is that it doesn't encourage people to think, it actually seems to lower their vibrations, to get them to purchase stuff instead of inspire them, and I find music from the past is, at least to me, more romantic and inspiring. Music is very powerful and can change the way we think and act, so I am very careful to exude what I feel are positive vibrations. I also try to watch a lot of films, I am an avid film snob. I don't read as much as I should, being that I am in grad school and most of the reading I do is related to school. As far as politics, I am pretty left-leaning, but I follow some of what goes on politically in our country.
Who or what would you say has inspired your creative way or your style the most over time?
Besides Billie Holiday, I would say Special Ed, A.G. and Biggie in terms of pronunciation and flow. I like to pause and let words hang behind the beat, something that Special Ed is a master of. I like creating negative space in the pocket, which is a D.M.V. thing, the pocket is essential to Go-Go. A.G. is very sincere, yet tough and I like that quality about him. Biggie had flow for days and I aspire to flow as smoothly and effortless as he did. I like my sound to sound unforced, natural and like it can't be hurried or rushed. I like it to sound like the beat is working in unison with the flow.
If people only have time to check out one track from the new album, which would you recommend – and why?
I would prefer people check out the whole album, its only 33 minutes, but if you are a lazy listener, my favourite song is Let's Fall In Love because the message it sends out.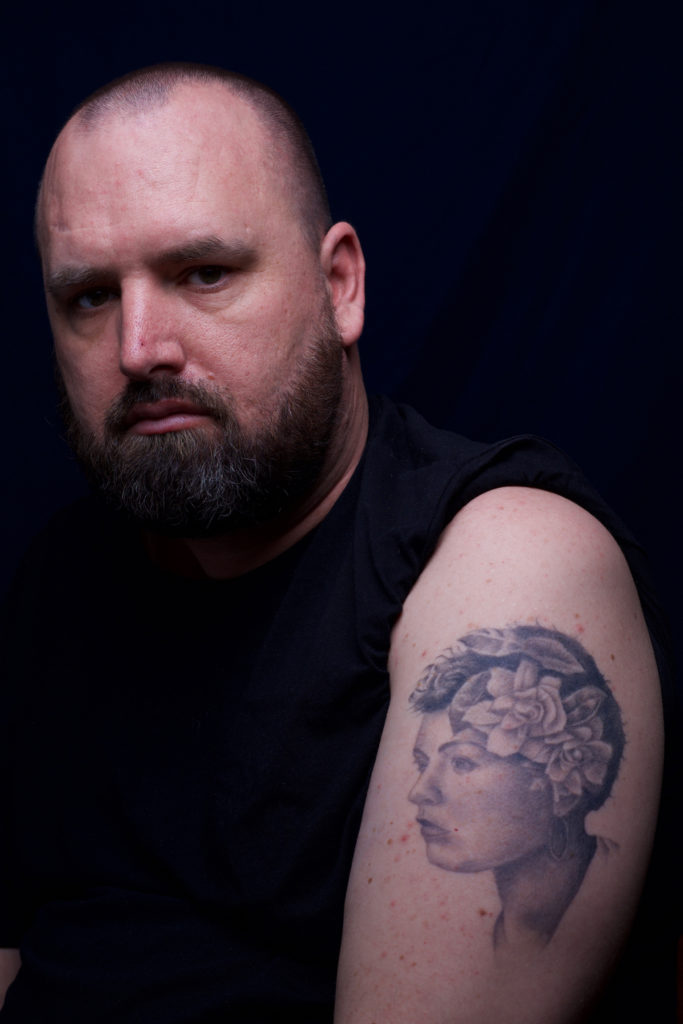 Let's Fall in Love is a personal favourite – what prompted you to write this one?
This one was a hook I wrote a while ago and found in my notebook that I hadn't used. The basic concept is that humanity is doomed, all these terrible things are happening and uncertainties may linger, but let's fall in love and have a kid anyway. It's sort of how I hold these two contradicting ideas at the same time as a worldview. The love and the fruit of the love, the kid, redeem the bad stuff that is happening. There is always bad stuff going on, and it will always appear that way, so anytime is a valid time for love and children. Why not today?
God's Music obviously references a higher power, and though there are hints of spirituality elsewhere, you seem fairly scientific or matter of fact about things a lot of the time. Does religion play a part in your life and in your writing, and if so, in what way does it affect the way you view music?
I wouldn't say religion as much as spirituality. I draw from all sorts of influences and ways of interpreting the world, my problem with science is that it only takes into account things that are material and can be proven. There is a whole living world beyond things that can be proven. Science can be a great tool in many regards, but you can't "prove" you are in love, you can't "prove" a feeling and that is where intuition comes in. I look at religious texts as attempts to quantify what can't be quantified. They will always fall short because so much is lost in translation and through time. So, I stand in a nexus between science and religion and draw from both, as my belief in something higher and more magnificent than myself is what compels me every day. I also am a believer in redemption and forgiveness, both of which are major Christian themes.
Your music is extremely creative and unpredictable – how do you usually get started when crafting your beats, and how do you know when a track is ready to go?
I just try to channel the feeling I am looking for and say what I feel needs to be said at the time. I usually start out with the drums, as they are the basis of hip hop, and then however I feel that day informs what mood the sounds will take form. I am still learning a lot about making music and I try my best to make it interesting, have a good pocket to rap over and somewhat funky.
What do you hope people take away from this project?
I hope people take away the fact that we are not alone, and that you should stand your ground in what you believe in, even if it makes you feel insane, because over time it will stand to define who you ultimately are.
What's the best thing that could happen for you as an artist in the next twelve months?
The cliché answer would be fame and fortune, but I don't think that would help my overall well-being, so many people in that realm turn to substance abuse. I want people to hear my music, but I prefer a bit of "flying under the radar". I only have a small group of fans, but most of them are "die-hard fans". I plan on continuing to make music as long as I live, that isn't going to change, and if it draws huge crowds, that isn't up to me, I just want to pour my heart out with every song.
If you could sit down to lunch with absolutely anyone, past or present, who would you invite – and what would you ask them about?
Billie Holiday and Genghis Khan. I would ask Billie about what the afterlife is like, and if she could sing for me. I would need a translator for Genghis Khan, but I would love to pick his brain about being the world's greatest conqueror of all time and what that was like.
Is live performance an important part of what you do or of your plans?
I haven't performed live recently, and I prefer to perform in intimate arenas, I feel like what I am doing and what most hip-hop is doing doesn't really allow much space for me, but if another show opportunity comes along, I will perform. I just need a few weeks to memorize my lyrics, I am horrible with memorization. A live show is a completely different animal. I prefer making albums.
Do you think there's hope for humanity in the future?
Absolutely. I do believe it will get worse before it gets better, but it will be much better than ever. We are at a cusp of change and innovation and as a society we need to choose our path. Do we choose capitalism, colonization, enslavement, fear and surveillance, or do we choose love? Time will tell.
What's next for you?
I am in grad school for a master's in social work. I plan on finishing that and once that is done, the music will come out more often than it currently does. It's a big hindrance to being creative.
Is there anything else we should know?
Check out my website www.getthatworm.com and follow me on media, @birdboogie. I plan on making a lot of music before I die.
* * *
Find & follow Earleybird on Facebook, Twitter & Instagram or visit his Website. Check out his previous release Original Imaginarium. 
https://soundcloud.com/earleybird/sets/lone-nut-great-oak