Following the release of his stunning album Dysphasia, we were blessed with the opportunity to interview artist and songwriter Lemesios to find out more about the music and how it all came to be. Here's the conversation in full. 
* * *
Hi Constantinos, thank you for your time and congratulations on the EP.
Thank you for having me and thank you for the great review.
For those who don't know, could you give us a brief rundown of your background in music, and how you would you describe yourself, currently, as an artist?
I've always liked music, obviously. Although at times, I had different reasons for liking it. When I was younger, I used to pay much more attention to lyrics. At other times, different melodies and the sounds of instruments – especially those of strings and guitars – were of greater importance to me. During my school years, I remember songs getting stuck in my head and playing them on repeat.
I have been into music ever since I can remember myself, yet without ever considering the possibility of me actually making a living out of it. I started taking classical guitar lessons at the age of 12. Later, in high school, I played in various local rock bands. At 18, I decided to take the leap… I completed my mandatory military service and then I went off to London. In 2011 I got my degree from Goldsmiths University and ever since I came back to Cyprus, I've been working as a film composer, songwriter, producer, guitarist, vocalist, sound designer and sound engineer.
Who or what inspires you the most, artistically?
This is an easy one. Everything could inspire me. Aside from my personal experiences, which play the most crucial role in the process of inspiration, and aside from everything that happens around me, I would say circumstances themselves inspire me. Now, this may sound a bit 'Marxist', but circumstances push you to explore something that you may not have thought you'd ever do. This process itself is an experience that gives rise to a range of emotions. Whether these emotions are positive or negative, it doesn't matter; they are still an endless source of inspiration.
The soundscapes you craft are always complex and detailed, expressive in so many ways. How do you get started with a new piece, how did this entire project come to be, and how do you know when something is truly finished?
I will answer this in a way that you will understand my biggest problem. I usually write my songs with a classical guitar, at least the first concept of a song. Then I move on to the computer, where I start the orchestration. Where's the big problem?, you are wondering… The problem is that I get bored too quickly. So then I start "sabotaging" myself. I deconstruct and debunk all my musical ideas. It's the whole 'shoulder angel-devil' thing. The angel naturally wants me to get on with the song, since it's a good one, and the devil urges me to drop it.
So, I start changing the song – production wise – experimenting with different sounds and maybe modifying the original structure of the composition, in order to prove the angel right! I guess this is how the whole project came to be. So you can appreciate the endless and stressful self-debate. I usually know that a track is finished, when I can admit that I have no more energy to fight it. I wish and hope that I find a better, calmer process in the future. (laughs)
Why the term Dysphasia, and in what way does this as a concept connect the songs in the project?
Funny story! Two-three months before the EP came out, I was talking with my sister, about the name of the record. She asked: "how do you feel about this project?" and even though I'm usually very eloquent, I couldn't utter a single word. As the neuroscientist that Athena (my sister) is, she asked me: "What's wrong with you bro? Are you suffering from dysphasia all of a sudden?". This turned out to be a eureka moment, as that's when I knew Dysphasia was going to be the name of my album. And that's also how the concept for the album artwork was born. A lesioned brain, often the cause of acute dysphasia.
If people only have time to listen to one of your tracks right now, which one would you recommend, and why?
Hm…. I don't know. That's a tough question, I don't even know if I want to answer it! (laughs)
Do you put a lot of truth or a lot of yourself into your music – or is there an element of fiction involved in it all?
As far as Dysphasia is concerned, there's no fiction involved. All of the songs are stories that I either lived through or touched me in a way, like Little Boy, for example, which has a pretty clear theme.
As far as my film scoring is concerned, there are a lot of factors that contribute to my composing process; the director's vision, the picture itself, the colours, the vibes.
The visuals for Adorine are incredibly well thought out – how did you come up with this, and what was the process like in comparison with making the music?
Thank you for your kind words! Adorine was the greatest challenge of the album. Imagine that we started recording it in June 2016 and it wasn't finished until May 2017. We had to switch both the theme and the lyrics, I don't even know how many times. I even changed the melody of the voice several times. Something similar happened to the music video, too. I went through 3 different directors before finally choosing Savvas Stavrou, who kept saying to me "dude, the song is too 'strong'. I can't think of something that would fit in the context. It's 'bipolar'! It has two climaxes and I am not sure how to represent that visually to do it justice". Despite his original struggle, Savvas then started brainstorming and sending me different scenarios.
The final outcome is the result of almost 9 months of hard work. I am very satisfied with it. Savvas and his crew did a fantastic job. Looking at the Spotify statistics, I realise that Adorine is number one in audience preferences. I admit that I never expected that, not because I don't like the song, quite the opposite. I just never expected such a complicated song, structure wise, to sell as much as it did.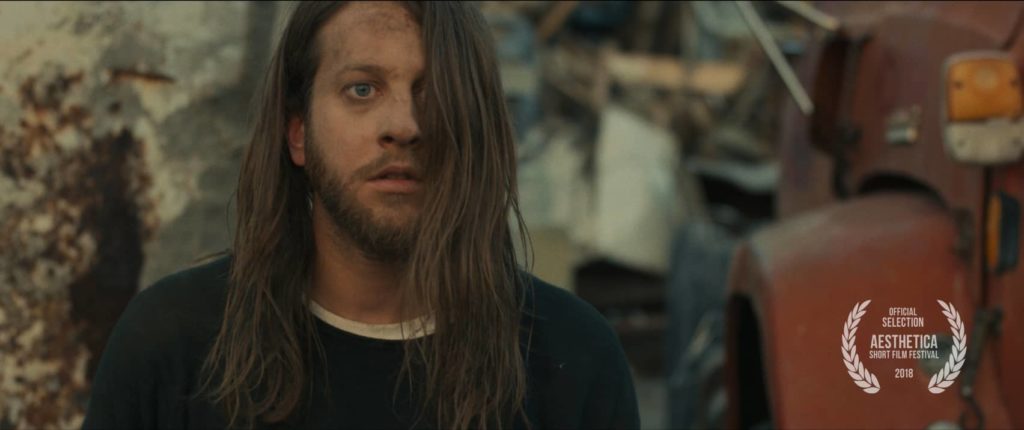 Does your creativity manifest itself in any other ways?
Yes! I try different things at different times. I make videos and lately, I have been making wooden creations. I always look for creative outlets when time allows.
You put out a beautiful Radiohead cover on YouTube recently. What is it about Radiohead's music that connects so well?
Radiohead is Radiohead. There's nothing to say here!
In addition to the loop pedal, what do you bring on stage for a live show – what can audiences expect?
For the live shows, my guitar, my guitar pedals, and a vocal processor pedal, which I use to give my voice different musical effects, are absolute necessities. My band consists of 5 members, Antonis Koumbari who is on electric guitars, Andreas Hadjipandelis on electric guitars and live electronics, Constantinos Pavlides on drums, and Nektarios Cassar on bass guitar. I believe we have a very rich sound which completely renders our studio work. The band's name is Lemesios, which is my last name. We all love performing together and I think this is evident during the live shows.
What makes a great and memorable live show for you?
Great sound on stage, great vibes from the people and no concept of time.
What's the music scene like in Cyprus when compared with the UK or London specifically?
The music scene and the music venues in Cyprus have really evolved in the last 10 years. There's better equipment now, great professionals are finally in charge of sound and lighting. The same as in the UK. The biggest difference would be the crowd, the target audience. Southern Cyprus has an estimated population of about 800.000. You can imagine, of those 800.000, how many are interested in underground rock music, especially if that kind of music is in English. Let's not forget that Southern Cyprus is Greek-speaking, so the average listener relates to a Greek-speaking artist more easily than to one who sings in a foreign language. On the other hand, there's the people who study and/or live abroad; their minds are more open and their taste is more similar to our kind of sound.
What does the future hold – what are your hopes or plans?
I am considering moving back to England to work on studio productions and film scoring, while I continue working on my personal discography.
Is there anything else we should know?
Well, if you happen to be in Cyprus in August, make sure you come and see our band! We'll be playing live at Fengaros Festival 2018, one of the biggest music festivals in Cyprus. We're very excited about it, Fengaros is a remarkable summer festival, with a stellar line-up. You can find more about it here and here.
* * *
Stream or download the album here. Find & follow Constantinos Lemesios on Facebook & Instagram.