Having frequently escaped to the sound of Humid Dreams For A Frigid Reality – the brand new album from Brooklyn-based producer Ajaxbeats – we caught an interview with the creative to find out more about his approach to making music & what advice he can offer to producers & artists who are just starting out. Here's how it went. 
* * *
Hey – thanks for your time with this, and congrats on the album! What inspired you to make a collection of this nature and with the intention of helping people better themselves?
About 80% of this project was made in 2008. I was was figuring out my path in life and in music. The path was filled with bouts of depression. I channeled that depression into music. A year later I found the path. I never gave up. I worked harder. If it wasn't for this creative outlet I would have lost my mind. I want people who are going thru things in their lives to take this project as an example of what persistence and never giving up your dream can lead to. I also want those dealing with depression to know that what worked for me was a little bit of 420 and a creative outlet such as music production.
How did you first get into music production, and how has your approach to it evolved over time?
I have been producing music since fall 1999. I was a College radio dj at 107.3 WATC @ SUNY Canton. I would chop audio into radio intros for my show. I left college in the spring of 2000. I would buy cheap programs like Hip hop Ejay and Cakewalk to be able to work on my home computer. in 2001 I linked up with "SIN & Smoove" from GTM records and was given a brand new First generation Imac and a MPC 2000xl. I'm glad to have analog experience along with the digital. In 2003 i linked up With "Jae D & Young Zito" from Brevoort Projects and I was able to produce an album and about 9 mixtapes. I was able to Use the mpc with the Yamaha Motif es7. I graduated to reason and Ableton with help from Dub Gabriel. I'm in the process of mixing analog with digital sounds (Ableton & the MPC).
When I write music I never write to make hits. I always write to express a feeling or a vibe. I have never been the type of producer to purposely sound like someone else. I wanted to fill Humid Dreams For A Frigid reality with tracks that i feel will last the test of time. These are currently the best of the best from an exported collection of 200 self produced hip hop-ish tracks.
You describe this album as being suitable for meditation, inspiration and exploration – which albums or other artistic arenas have you yourself turned to for these things in the past?
Pink Floyd's Dark Side of the Moon & Wish You Were Here has been a huge inspiration on my music from day one.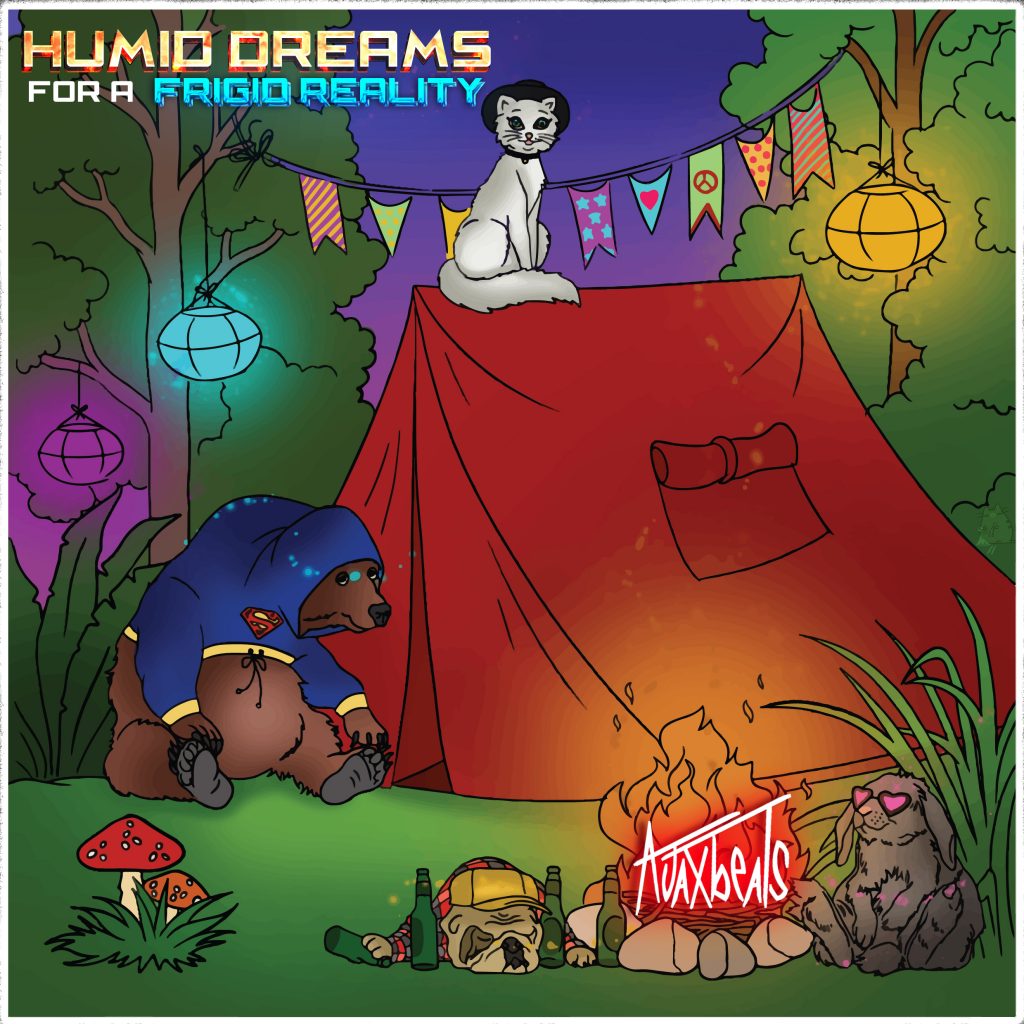 How did you come up with the album title, and what does it mean to you personally?
You can find a bitter sweet escape with this album (Humid Dreams) But you will have to come back to reality to face what you were escaping ( Frigid Reality ). When listeners come back I'm hoping they are ready to tackle any obstacles that are in their way.
If people only have time to check out one track – which would you recommend, and why?
Oregon is my favorite. Its the most relaxing track on the album.
For those who don't know – what's NYCRavers?
NYC Ravers is an event company In Nyc that throws anime themed electronic events. (Raves). We do a lot of costume themed events as well. Our line ups include Hard Dance / Psy Trance / Electro / Drum & bass / and House. The company has been around since 2007 I have been apart of the company since 2013. Our biggest event is Super Smashed Bros. Its an un official Comicon after-party.
What's next – what are your hopes or plans creatively over the coming months and years?
I just want to get as many people as possible to check out the album. I do plan on releasing a Drum N Bass / Jungle project in September. I really want to make a second Chill out Hip Hop project i may start working on it in July.
What parting words of wisdom can you offer to independent music fans and music makers alike?
For the music makers I would say don't conform stay true to who you are and what you want your music to represent. You will get out as much as you put in. The world is full of people who dig your music. Try your best to find them.
For the listeners I would say thank you for searching out artists like my self. We make music to connect with the free thinkers of the world like your selves. I hope to meet as many of you as i can in the near future.
* * *
Download the album via Bandcamp or stream it on Spotify. Find & follow Ajaxbeats on Facebook, Twitter & Instagram.