Creative brilliance of a masterfully niche origin, Travis Sullivan's Bjorkestra promises a one-of-a-kind live experience, as the full-band ensemble takes on The Cutting Room, New York, this coming September 25th.
Blending genres with fearless devotion to artistry, Travis Sullivan's Bjorkestra brings together big-band jazz vibes with the unrivaled creativity and repertoire of global pop act Bjork.
* * *
When? : Sunday, September 25, 2022, 9:00 PM EDT
Where? : The Cutting Room, 44 E 32nd St., New York, NY 10016
* * *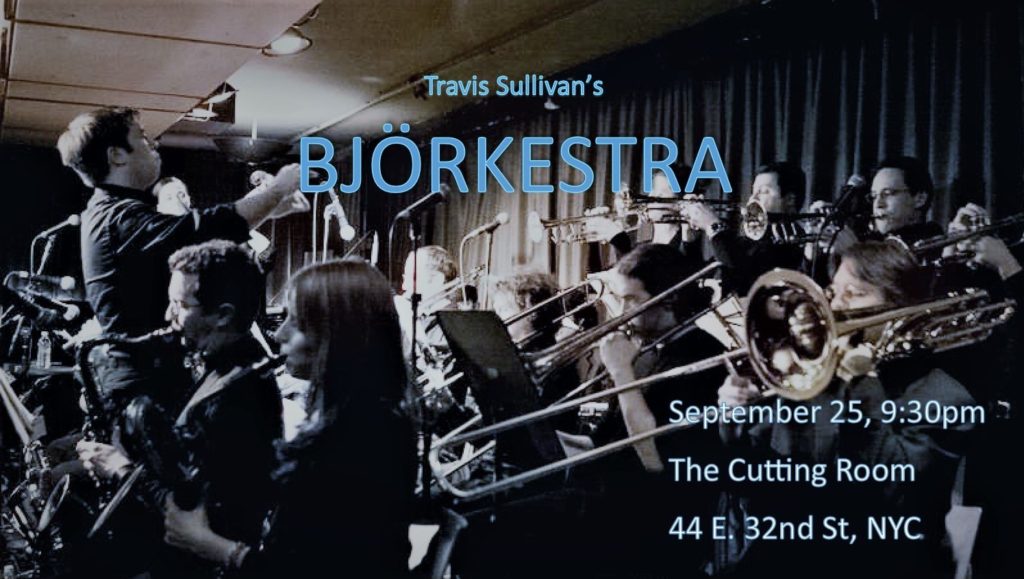 Showcasing faultlessly skilful arrangements, alongside captivating improvisations and outright danceable grooves, the upcoming live performance will deliver an unforgettable audio and visual experience; one that pays tribute to the treasured Bjork through 'invention, not imitation'.
The band's imaginative manner of portraying classic Bjork songs has been creating waves the world over, ever since their outstanding debut at the legendary Knitting Factory back in 2004. They have since gone from strength to strength as an unparalleled live act, gracing the stages of some of the most renowned jazz festivals across the US, Europe and Asia.
As they return to New York this September, the show is set to be an unmissable celebration – of both their journey, and their distinctive approach to honouring one of our generation's most gifted artists.
Tickets are just $20 advance – grab them here – or $25 on the night. Doors open at 8:30pm, show starts at 9:30pm.
Check out Travis Sullivan's Bjorkestra on Facebook, Twitter, Instagram & their Website.