Following the release of his album and subsequent video mini-series, we caught an interview with the creative behind The Goldwyn Experiment to find out more about how the project came to be. Here's how it went. 
* * *
Hey – thanks so much for the interview, a real pleasure. For those who don't know – what is The Goldwyn Experiment?
The Goldwyn Experiment is my solo project, it's one where I can change every release with a different genre, every member of the band, add different singers. It's the project I can get creative and do what I please. Without having to stick to certain sound style.
What inspired the video mini-series?
I dropped a tab of Acid and had just received the Masters for Avenue B, so that was playing in the background. I started getting the visuals from the music and wrote down a quick concept mainly for Sad Boy Summer episode 6 which we released first. (Yeah we took a different approach on how we release videos). Back to the topic, so I pictured muscle cars, dessert, a heist – something just as bad as the Fast & Furious series, bare in mind I'm on acid, so the stories aren't connecting. Yet.
I sent a message to Tyler Guest and Tommy DiRocco who had featured on the song Sad Boy Summer and asked them if they would be down to join me in Vegas if I were to make this video happen, and they said "Yes, but call us when you're sober." That very night I got in touch with Don from Olena Z Films and Zachary Creatchman my former classmate from Trebas Institute, and we started putting it all together. Fast forward a few months we have a full script, a truly amazing Cast, a great Crew and 7 god damn days to shoot 7 episodes (which is a very, very limited time).
What does the title Avenue B represent for you?
Avenue B, is where I lived in New York city, I lived right in between Avenue A and B on East 2nd street. I also have an album and song after each of those. The reason for this is because the place I lived in NYC the pretty known apartment 5F had a great amount of debauchery going on – so much so that it could inspire a movie. Actually we made Esquire magazine. We had Parties almost every night of the week that would go on till 10 am or so, it was a great time and it's my way of somehow immortalizing these memories that I named the albums after the place.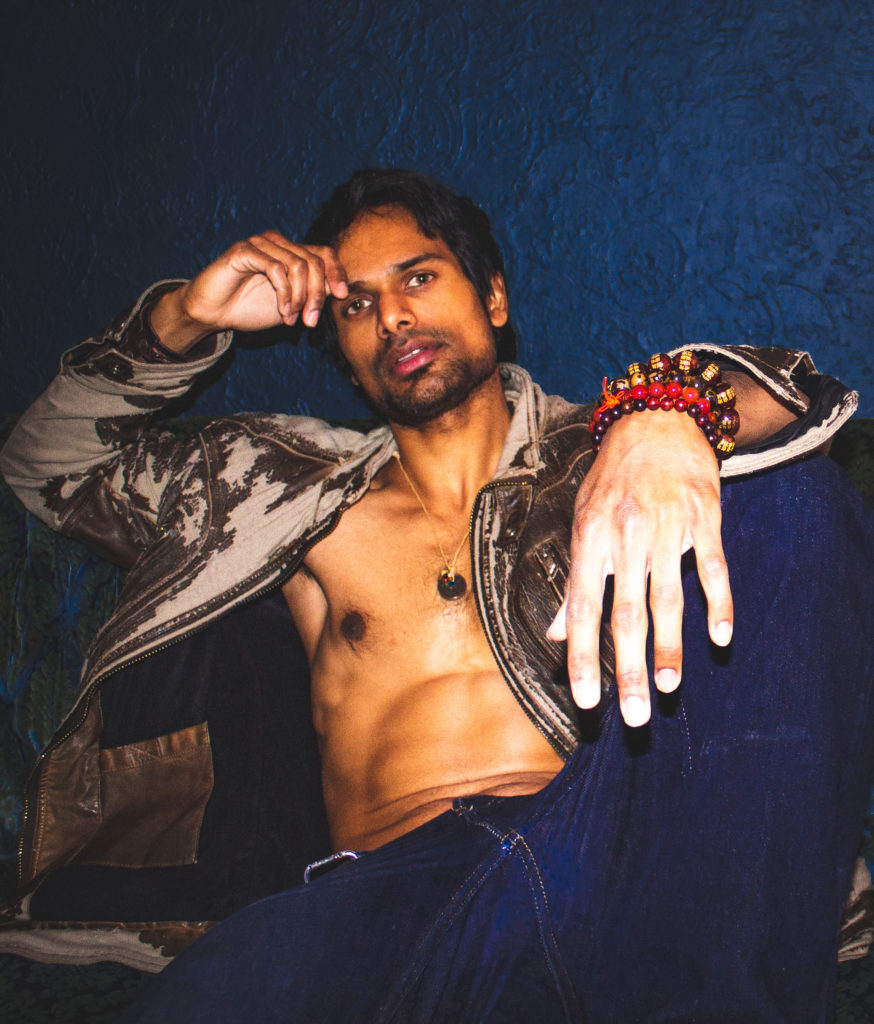 Where did your musical journey begin, and what is it about the art form that keeps you so involved and passionate about creating?
I probably started playing guitar when I was 16, I could play Greensleeves with the guitar behind my head, that used to impress people at school, slowly I learnt more songs and noticed I was pretty good at lead, solos and I always got great feedback from older people at the gigs I was playing. As at the time in Mauritius not many folks my age liked Rock n Roll or Metal (actually only a group of 20 odd people on the whole island liked that music and I knew all of them). But we played in shows organized by the school, so there were hundreds of people I think the biggest one was around 800 attendees. After I finished playing teachers, dudes who loved Rolling Stones, Led Zeppelin would come up to me and say that was rad and that was enough to stroke my ego and put me on the path to do music for as long as I live.
What keeps me going though is I guess I travel a lot and meet a lot of people around the world, I also do quite a lot of things I would say now "that was stupid" but these are all stories I can write about whether it be in a song form or film. For example in Sad Boy Summer, I'm getting arrested for public urination, that actually happened in real life where I had a bench warrant for my arrest for public urination. Out of all the stuff I've done, this is just too funny not to write about. I've also woken up in Paris after a night out in Glasgow, Scotland (where I lived at the time), was reported missing and had to fly back to prove I was myself and alive. (That's maybe for another video series).
Is live performance an important part of your plans, and if so – what will a live show look like?
So with all the weirdness of the project that was the hardest thing to figure out. But I did. Early this year we did a show in Montreal where I played with a jazz band in an acoustic setup. So I re-arranged all the songs for acoustic set where it would work with just me and an acoustic guitar, and some cities I will be playing I will be joined by some Jazz Cats I know and some it will just be me and an acoustic guitar. I worked on both setups and I can assure you, that you will enjoy the live show more than the studio albums. Here is an example of a song :
If you could sit down to lunch with anyone at all, past or present, who would you invite – and what would you ask them about?
Jim Morrison as (a) I'm sure we would have a good time regardless (b) How did you work that stage presence, how did you get to where you did, have that whole crowd at your hand?
What's your plan creatively throughout the rest of 2019, and what's the bigger picture for you – where do you hope to take things?
Well I head to Europe in June (Berlin, Madrid, Paris, Amsterdam) and then back to the States where in August time I will be touring from East to West, and by the time I hit San Diego, I wanna have an EP or maybe even a new album out – I'm planning on doing an A-side acoustic songs, guitar vocals, and the B-side an Industrial Heavy section. Hahahaha. That's just an idea for now stirring in my head.
What's the best way people can support you?
Follow the series for the next videos, Let it Snow – May 10th, Arrows May 24th and the rest of the series will continue end of June.
Is there anything else we should know?
The Earth is not flat, Space is not fake, Weed should be legalized Worldwide.
* * *
Find & follow The Goldwyn Experiment on Instagram.