From songwriting to Eurovision, idols, inspiration, and becoming an Ambassador for APRA – we caught an in-depth interview with Justine Eltakchi, to find out more about her journey as an artist. Here's how it went.
* * *
Hi Justine, thanks for the interview! What is it that drove you to being a musician, singer, song-writer?
I grew up surrounded by music, with my dad being a singer and guitarist himself. Almost everyone in my family is musical but it wasn't until I was about 14 that I really discovered my love for music, and that was when I discovered song-writing.
Listening to the likes of Stevie Wonder and Michael Jackson growing up, I had a strong foundation of RnB/soul and when I stumbled across John Mayer, I found a whole new level of love for the art of songwriting.
As soon as I could play 2 chords on guitar I was writing songs. I loved creating something from nothing. There have been times I have stopped doing music all together form the challenges that came with the industry. I have had periods where I've lost all hope but I have always been led back to music through my insatiable thirst to write.
Writing has been my therapy. It has been how I work through and process feelings and experience. When I let go and allow a stream of consciousness to write the music, I discover things that I wasn't able to articulate through conscious thought. It has been a long and bumpy road, but what has been a focus of mine recently is to find a real confidence in my skill as doubt is what stifles creativity.
If you had to pick an artist who inspired you the most, who would that be?
John Mayer. It is Mayer's ability to articulate experiences that we often skim over or can't process ourselves. His ability to blend lyric, melody and production style is truly a work of art and a tapestry that I am constantly striving to achieve. His albums Heavier Things and Continuum were pivotal in my musical journey.
Describe your music; what do you mostly write about?
My music is usually based on self-reflection and introspection. Weaving experiences of the outside world into the common experience of most humans. Being able to explain feelings, tipping points and revelations. I have always wanted to explore the human experience in a beautiful and romantic way.
I am an idealist at heart and while we can't always be in that mind set, I suppose I like to think of my music as an escape from the burdened mind.
Sonically, I love anything with groove and always gravitate to writing with RnB melodies and rhythms. I am highly influenced by RnB/ Soul from the 80's and 90's. I admire classic song-writers like Carole King, Stevie Wonder and Billy Joel and try to work a similar progressiveness into the chords and structure.
Vocally, I am always trying to go back to basics and do what comes naturally. I try to focus on the actual story-telling and layering of harmonies. They are my two favourite things about my favourite music.
I understand that you are the writer behind Casey Donovan's Eurovision Australia entry for 2020. That's quite an honour; tell us more about this and how it came about?
I entered Proud into the Eurovision Australia portal online. I then out of self-preservation put it aside, not thinking anything of it. September last year was when I got the phone call from Paul Clarke at BlinkTV, saying he had heard my song and absolutely loved it.
It was a surreal moment as just that day I had been deliberating whether to move on from my music, feeling completely defeated. That moment then turned into Casey Donovan performing Proud at Eurovision Australia Decides 2020, placing 2nd. It was incredible to know that so many people resonated with the song and an honour to have Casey Donovan tell the story of Proud.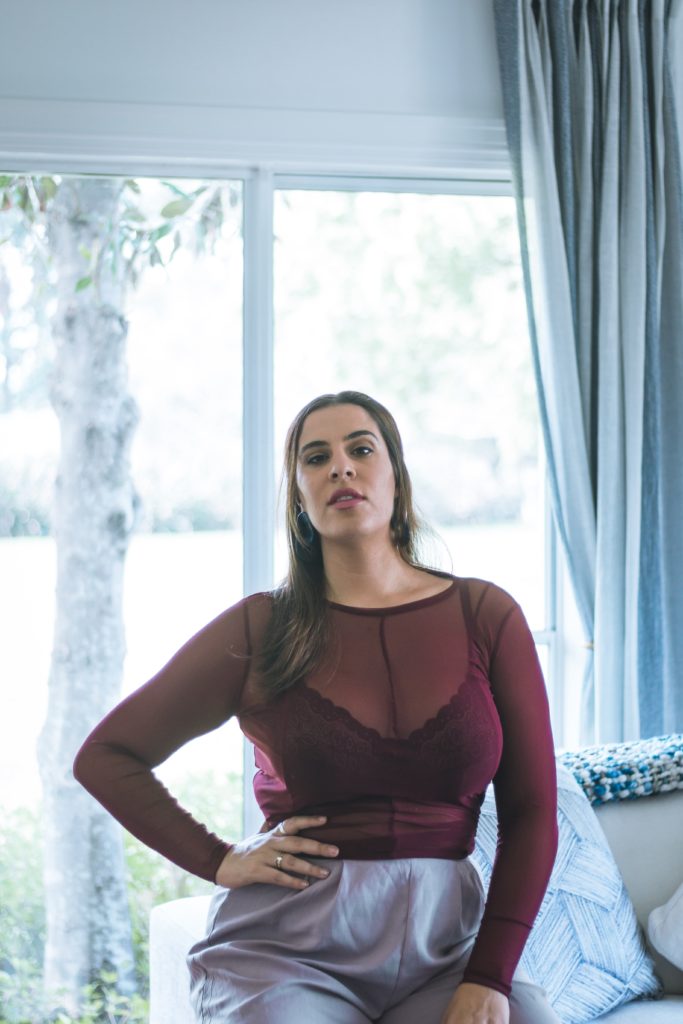 How often do you perform and what has been your most notable live performance?
I have been a full-time performer for 5 years. My most memorable performance was at the Evans Theatre, supporting Vanessa Amorosi on the opening night of her return tour 2019. It was a surreal experience being on that stage.
Tell us about being an APRA ambassador; what does that entail?
It came as a complete shock to me, being appointed an Ambassador for APRAAMCOS. It is such an honour as this organisation does so much for our music industry. For me, I have been advocating for disability awareness through my vlog The Pickle Sandwich and to my own community for quite a while. Taking on this role means I'm able to extend my advocacy to a larger network and educate where I believe there are gaps.
For me, the spectrum of disability is important to focus on, as there are so many invisible barriers faced by those living and working with a disability.
What plans do you have for 2020?
This year I plan to keep writing and producing as much music as I can. I want this year to be a year of sharing, and creating a conversation with the people who like what I have to say. This year for me is about personal growth and through that, music.
What advice would you give any young aspiring artist who wants to become a professional musician?
I would say there is no formula or right path. I would say, follow and explore your creative intuition, don't box yourself in and don't over think. It's so important to have set out goals and then be flexible along the way in getting there. I am a routined person who needs structure and goals, so I would encourage those things.
Finally, please tell our readers where they can find you online?
My music is on all streaming platforms, YouTube, Facebook and Instagram. Come and say hello!
* * *