Imaginative guitarist and original composer Eyal Maoz's reputation precedes him; he has recorded with John Medeski and Time Berne, performed with John Zorn's Cobra, and Abraxas, and one of his recent releases (EFG Trio, on Orenda Records) includes the Grammy Award winner Frank London – as well as renowned composer Guy Barash.
Eyal's bands, Edom and Hypercolor, which he leads or co-leads, hit the scene with signifiant impact thanks to their unique album releases. And to top it all off, Eyal will soon be plugging away with a new guitar solo tour -presented by his notable production company 'Bellus Productions'.
Featuring newly released singles like Down Electronics and Lek, as well as the likes of Nostalgia and Aliya, the upcoming shows will introduce an act with equal parts delicacy, pace, energy and weight to their creative expression.
The rising artist and musician has already blown audiences away for his full-band shows, and with the launch of his new exclusively solo venture, his unrivaled ability and soulful presentation are on track to raise the bar further still. Undoubtedly one to watch out for in the coming months.
Is there an underlining element in your playing?
Yes – I seem to be influenced by this concept, which I term as Hope and Destruction. It is also the name of one of my tunes, and one of my albums. I call 'hope ad destruction' this historic phenomenon, that when people hope for the best, ignoring the facts around them, are ending up in a disaster. It first came to me after watching the documentary film The Rise and Fall of the Third Reich. You simply want to shout toward the screen: "get out of there! Can't you see what's coming?!".
Obviously me being Jewish and a member of a family whose many ancestors were murdered in the Second World War made me drawn to the movie. But I see this phenomenon occurs constantly in history, in scales smalls and large. I even see it in recent events like the war in Ukraine, for example.
In general I am positive and happy person, and the energy of my playing comes from it too. But the dark energy that stems from my thinking about hope and destruction phenomenon fuels my energetic creativity as well, and brings music that surprises me too, as strange as it sounds.
What do you think makes people fall into such hope and destruction traps, historically?
I think people are very easy to get influenced by almost anyone, and to a ridiculous extent. The historian Yuval Noah Harari, who I am a big fan of, wrote about one element that is unique in humans:
"…since humans are born undeveloped, they can be educated and socialized to a far greater extent than any other animal…Humans emerge from the womb like molten glass from the furnace. They can be spun, stretched and shaped with a surprising degree of freedom…" (Sapiens, Yuval Noah Harari)
With reference to your interest in the history of humanity and human nature, how do you incorporate these qualities into your music – is it purely an emotional thread, or an imaginative storyline that guides things?
In my opinion, these two sources of inspiration are closely connected and provide me with both creative and emotional stimulation. As someone who frequently composes music using visual mediums such as films and video art, envisioning these historical events has also assisted me in crafting some of my songs.
Will there be any new video releases or live streams to accompany the upcoming shows?
Certainly. Edom's forthcoming album will be complemented by the simultaneous launch of fresh music videos that showcase the band and its artistic and heartfelt message.
Is there a message you want to convey to other musicians or artists today?
Make a habit of consistently taking action in your career. By doing so, unexpected opportunities may arise.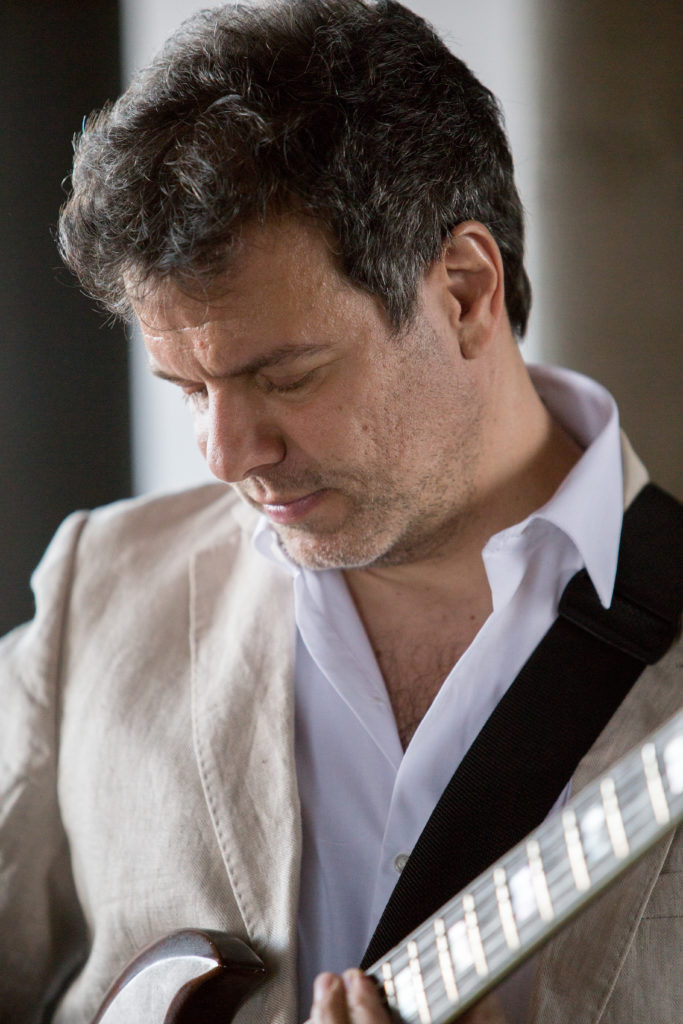 * * *
Upcoming Concerts:
April 18, 2023: Ljubljana Slovenia, at Prulček – live music venue, 2 Prijateljeva ulica 1000.
April 19, 2023: Vienna, Austria, at KunstbeTrieb Klostergasse 11/1 (Ecke Kreuzgasse 64) 1180.
April 20, 2023: Graz, Austria, at ARTIST'S, Schützgasse 16.
May 2, 2023: New York City, USA, at Downtown Music Gallery. 13 Monroe Street / New York, NY 10002-7351.
* * *
Find out more via Bellus Productions or visit Eyal Maoz' solo guitar Website.