Performances a la carte presents An Unforgettable Evening Honoring the Musical Legacy of one of America's most Beloved Composers.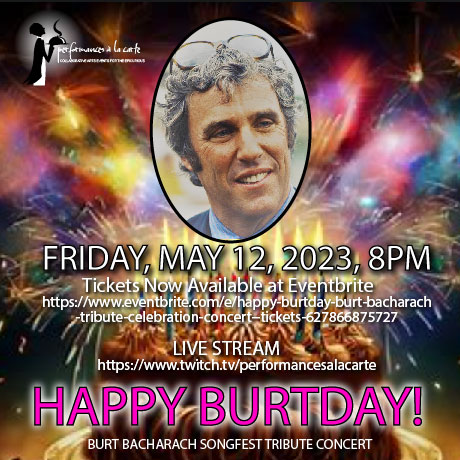 Introducing an unmissable evening of solid Burt Bacharach musical gems.
Featuring Los Angeles Jazz Consort, an all-star line up of top jazz players on America's West Coast; with Gary Fukushima on piano, Chris Wabich on drums, Lyman Medeiros on bass and vocals, Carla Jamie Perez on vocals, Larry Koonse on guitar, Katisse Buckingham on sax and flute, John Tegmeyer on clarinet and Kris Bergh on trumpet.
Music at the tribute concert will include Bacharach's chart topping, Grammy-winning hits by Dusty Springfield, the Shirells' and Dionne Warwick, as well as music from his soundtracks for films and Tony-nominated Broadway musical Promises, Promises. The concert will be followed by a reception of birthday cake and sparkling beverages.
Regarding ongoing event concerns, a seating area with moderate social distancing will also be available at the back of the venue, and masks can be requested.
* * *
When? : FRIDAY, MAY 12, 2023, 8PM
Where? : 301 N. Orange Grove Blvd., Pasadena, CA 91105 USA
* * *
Performances à la Carte is a collaborative arts events producer with a mission to create unique, original live performances utilizing multi-arts genres to showcase the diverse artistic community in the San Gabriel and Crescenta Valley area, and to connect the arts with social needs and issues that serve the public interest.
Grab Tickets to attend the Burt Bacharach Tribute live for $15 to $25, or stream the concert live on Twitch at 8:00pm (Pacific Daylight Time) for a suggested donation of $20 (Live-stream at this time only, not available after the event). Donations can also be made at Performances a la Carte.