Championing the best of the UK's Black Urban Artists across the board, London's City Talnt gear up to host their second live showcase event – coming on March 5th, 2020, at Tamesis Dock, Albert Embrankment.
City Talnt are a fast-rising talent agency who already boast co-signs from the likes of Radio's Tim Westwood. Known for hosting unmissable events for up and coming indie artists across the UK, their shows help smaller names further build their fan-base via access to vibrant crowds of music fans up and down the country.
In addition, City Talnt events are renowned for welcoming A&R scouts and Music Industry Professionals alike, offering invaluable opportunities to unsigned artists – a chance to make a lasting impression, and to deservedly take things to the next level.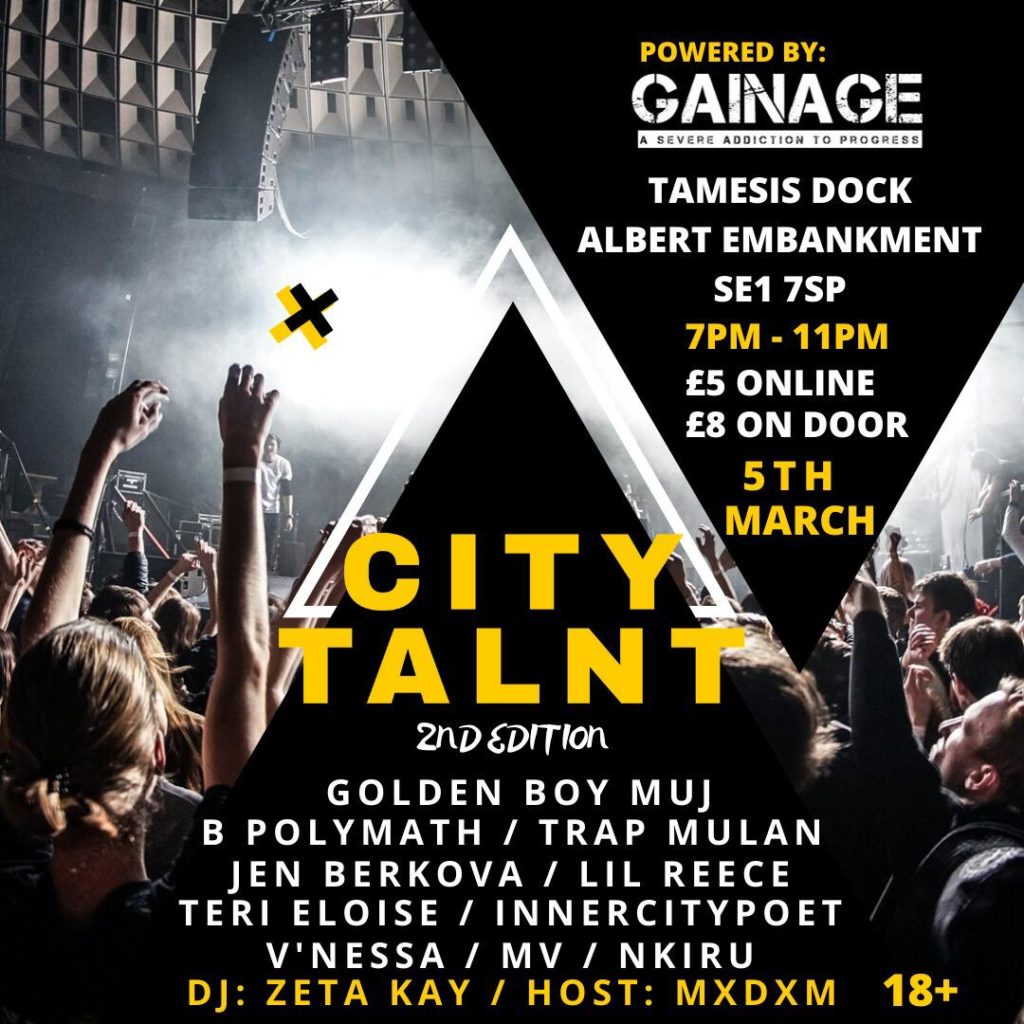 City Talnt pride themselves on seeking out the very best underground talent – those with a small core fan-base but a clear level of buzz, unwavering passion, and dedicated work-ethic. Their intention is to elevate artists from 'best kept secret' to being known by a much broader national audience.
Co-signs continue to come through as a result of these live events – iconic names within the Black Urban UK Music scene regularly attend, alongside industry professionals from various backgrounds.
This March welcomes GRM-celebrated artist Golden Boy Mui to headline, with a host of additional rising stars also gracing the stage – B Polymath, Trap Mulan, Jen Berkova, Lil Reece, Teri Eloise, Innercitypoet, V'nessa, MV, Nkiru. With the fresh rise of Urban Music in recent years, this one's set to sell out fast. Get your tickets early.
Location: Tamesis Dock, Albert Embankment, SE1 7SP, London, UK.
Time & Date: March 5th, 7 through 11pm.
Tickets are £5 online or £8 on the door. Grab yours here. Find & follow City Talnt on Instagram to stay updated.