Be a part of something BIG.
* * *
Introducing the Third Annual NoVA MusicFest at 868, on behalf of the swiftly expanding Cancer Can Rock – seven hours of superb music from local, regional, and international musicians devoted to raising funds for the unique studio experiences of people fighting cancer.
Cancer Can Rock is an organization that uses money raised to invite musicians facing aggressive cancer into a studio to professionally produce a song and video – the likes of which will serve as a lasting and tangible reminder of their recording experience.
"These songs have been a point of pride for those who have survived and solace for those who have survived them."
Full Line-Up
12:30 PM – 1:00 PM: The Greek and the Freak
1:05 PM – 1:35 PM: Gary Smallwood
1:40 PM – 2:10 PM: Caleb Hacker
2:15 PM – 2:45 PM: Adriel Genet
2:55 PM – 3:25 PM: Juliet Lloyd Duo
3:40 PM – 4:40 PM: 19th Street Band
4:55 PM – 5:25 PM: Tommy and Kim
5:30 PM – 6:00 PM: Jason Masi and Tommy Gann
6:15 PM – 7:00 PM: Todd Brooks and Pour Decisions
7:15 PM – 8:00 PM: Delta Spur
* * *
When? : May 28th, Midday to 8pm
Where? : 868 Estate Vineyards, 14001 Harpers Ferry Rd, Purcellville, VA 20132
* * *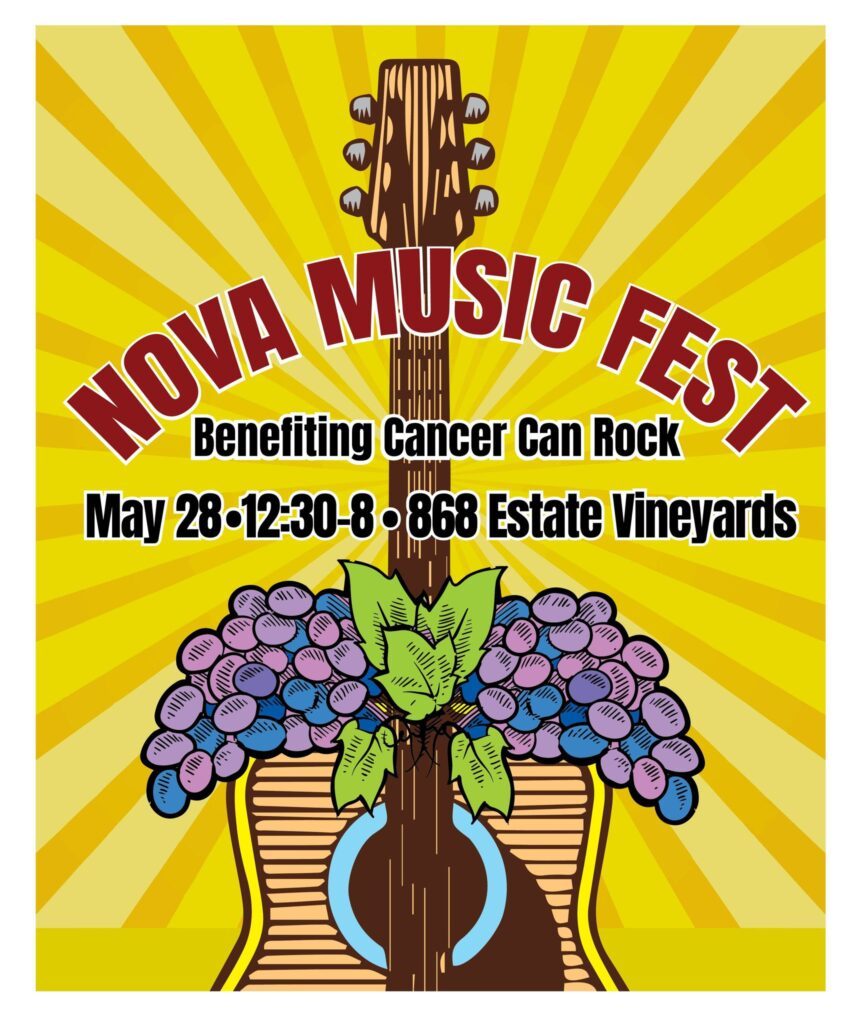 Exclusive Interview with Two primary folks from Cancer Can Rock – Jim Ebert, the founder… and Rich Forsen, the president….
– – – – – – – – –
Hey, great to chat with you – thanks for the opportunity! Just to introduce the project – when did you create Cancer Can Rock, and what inspired you to do so?
Jim: Around 2012. I had gotten through a long bout with cancer and realized I would probably survive, and wanted to do something that would help "my people" (musicians) who were themselves going through cancer. Producing music is what I knew, and where I could help.
Rich: Jim invited me to become part of Cancer Can Rock early on, around the time of the first artist recording. I'd attended many concerts, amazed at the value provided and the talent level of the multiple acts, and Jim, having seen my face so often, said "you're here all the time anyway, you might as well join". My sister passed at 38 years old after a 7 year battle and I was looking for a way to impact the cancer community beyond just writing a check to a charity, not knowing what would happen with it. My participation as a board member and volunteer has allowed me to ensure that my and others' money and time are well spent.
You've now recorded fifty different artists – in what ways has working with so many people in such a creative yet emotional way impacted you and those involved?
Jim: Easily the most fulfilling thing I've done personally. Being able to see happiness in a tough time. We've had people say "This was the best day of my life" and "For a day I forgot I had cancer". That's pretty special to hear.
When we've unfortunately lost one of our Featured Artists, their song has been played at their celebration of life. On a personal level, I actually met my partner at one of those.
Rich: A few life lessons have come out of this for me. I've always been amazed at the positivity and warmth of the Featured Artists, which is what we call the musicians we support, at a time when they are facing some really difficult stuff. It immediately makes whatever I'm dealing with seem small.
I've been impressed with the dedication and professionalism of the studio musicians and video folks, and myself have learned a ton about the production side and have become confident in my own abilities on the creative side through the experience provided to me by volunteering for CCR.
But I think probably the most eye-opening thing came from a session we did in Los Angeles at the famed Village Studios. The bass player and drummer – who have worked with acts from Gwen Stefani to Shania Twain to Alanis Morrissette – came in and recorded their tracks in the first 11 minutes. They were that good. They could have left and come back later. They could have worked on other things. But they stayed, and helped with the rest of the process, always in service and in support of the Featured Artist.
"I've learned that if you are really good at what you do, you have nothing to prove to anyone – I was, and constantly am, humbled by the grace and generosity of these masterful artists."
What motivates you to maintain a positive and upbeat outlook when helping people and making music with them?
Jim: I get joy out of making music with people. Especially those who appreciate it. Often there is such excitement for some people who haven't been in a studio environment before that their excitement lifts everyone else.
Rich: Knowing how dedicated the creative staff is and their commitment to making the experience and the result the best it can be for the Featured Artist, and knowing how special an experience this is for that artist, it's important to maintain an upbeat demeaner, even with occasional production challenges. The ebullience at the end of a long session when you've created art where there was nothing in the morning is hard to top.
In terms of the live event for NoVA MusicFest, what can people expect from this?
Jim: They can expect amazing music, a nice venue, a family atmosphere (kids, dogs, etc.) and great food and wine. They'll get way more for their money than they spend, given the quality of the acts. Overall, it's a great way to spend the day. And hopefully they'll come away with a desire to do more, find out more, participate more in our mission.
What's your biggest ambition for the project – what would you ideally like to do if enough funds were raised?
Rich: We are currently an all-volunteer staff. While this allows us to stretch the budget, it also limits our ability to get the message out there, create funding and production relationships, and impact more artists. We would like to get to the point where we are able to record at least one artist each week – there is sadly no shortage of musicians fighting cancer.
We'd like to have professionals doing our marketing, our event production, much of our day to day operations and fundraising, and have us get to the point where we are able to not use lack of funds as a reason to say "no" to an opportunity to reach more people.
Are all of the songs available for the general public to listen to and connect with?
Rich: Yes. Every Cancer Can Rock Featured Artist gets their own permanent page, with a bio, and links to where people can buy their music (iTunes, Amazon) and also links to the video interview where you can find out more about the artist, and of course the music video which can be enjoyed and shared with their friends.
What's the best thing people can do to support this cause?
Jim: Go to events and donate.
Rich: Volunteer. Connect us to corporate sponsorship. Do Facebook Birthday fundraisers. To name a few. In general, spread the word, and invite their circle to do the same.
* * *
Promising good music, food, 868 Estate wine, Lost Rhino beer, craft vendors and plenty more, Nova Music Fest is a family and dog-friendly event – Children 12 and under enter free. Pop up tents are welcome. Bringing in alcohol is strictly prohibited.
Grab Tickets pre-sale for $25 or $30 on the day. Find out more about Cancer Can Rock via this video or find them on Facebook, Twitter, Instagram & their Website.