In keeping with the social restrictions designed to keep everyone safe this year, Brooklyn Ubuciko Festival fills in the gap by bringing music fans the festival experience they've been craving – straight to their front-rooms.
Celebrating a plethora of great artists and arts industry entrepreneurs, Brooklyn Ubuciko Festival offers up a platform for the lesser known creatives of our time, and welcomes in the world to share in their gifts – for the first of its kind in this virtual, purely online setting.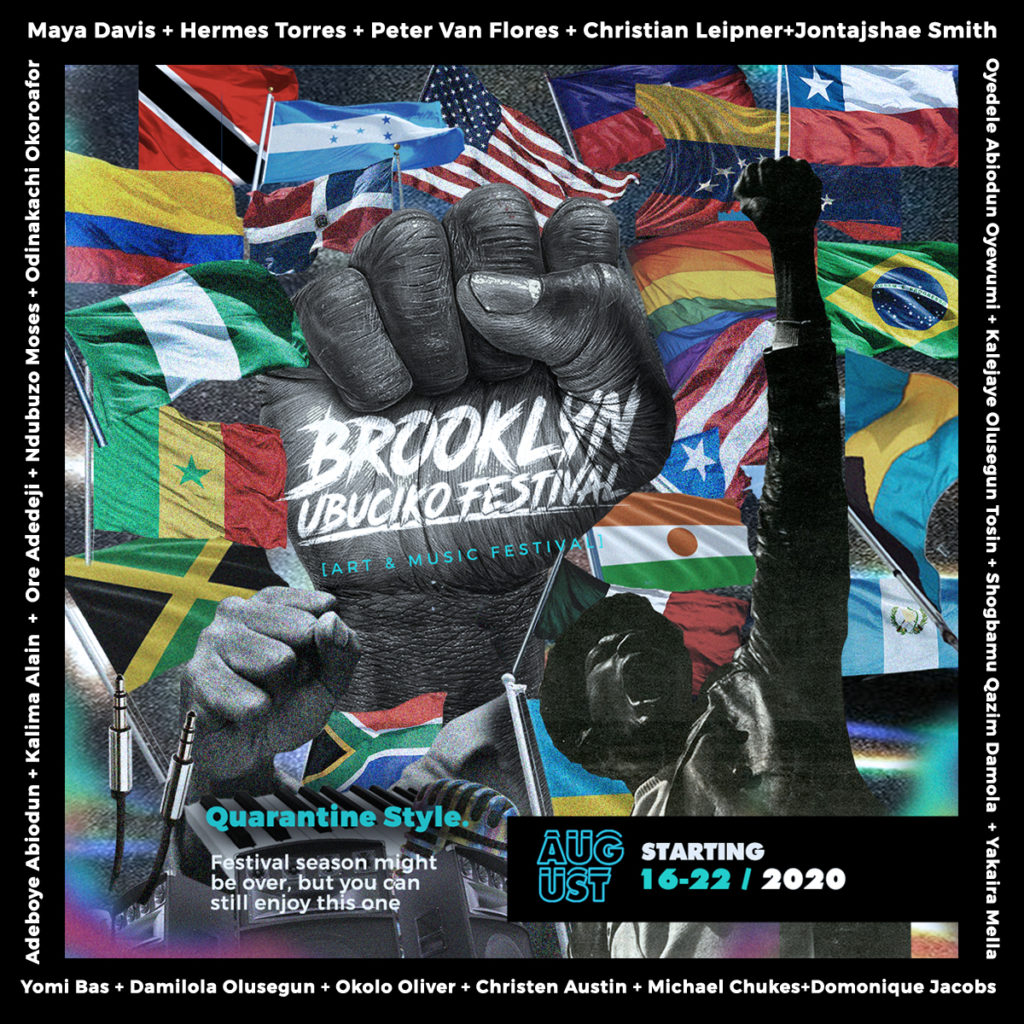 Before the pandemic of 2020, Brooklyn Ubiciko Festival was planned to go ahead in New York City for the week of August 26 to 22. Undefeated by the sudden change in circumstances, the festival will go ahead, but this time anyone from anywhere can get involved and witness the array of creative masterpieces on show throughout the week.
It's a bold move, and one that rightfully draws focus and appreciation to the art and music worlds – industries that has been struggling consistently throughout these difficult times. Simultaneously, in line with further issues that have been brought to light throughout 2020, the Festival provides an honorable creative space for artists, musicians and vendors of color. It's a celebration of African diaspora, and it's set to be an unforgettable week of creative freedom and expression.
The festival crew have combined efforts and unlimited imagination to make this happen – now all that's needed is the support, enjoyment and feedback of the world's audiences.
Tickets for the Festival are currently $19.99 – an early-bird special that's set to rise as high as $24.99 in the coming week.
The full ticket price includes a week-long interactive experience, featuring all of the following…
Cooking with two amazing chefs: Customers will get a shopping list to cook along with both chefs
Yoga: Learning to meditate and stay fit during rough times where we often seek companionship and human connection
Curated Discussions with Hosts about Sex, Current political Issues, Starting Businesses, Art, Design & Retail
DJ's With two-hour shifts in your day to keep you moving 
Photography Classes
Sip & Painting classes
Financial Literacy 
Open Mic Night
Health Task force 
Learning how to Vogue
Live auctions from notable artists 
Live performances from bands, and Singers
Mental Health talks
And More
* * *
Grab tickets for Brooklyn Ubuciko Festival via their Website. Check out the Festival via Facebook & Instagram to stay updated, and join the event page. The Festival is also actively supporting a number of charities – Find out more about these here.