Rising indie rapper and artist Ashtre Surfa! hits the live scene this season with his unique blend of dreamy rhythms, conscious bars and quietly confident intentions, across three new live performance dates.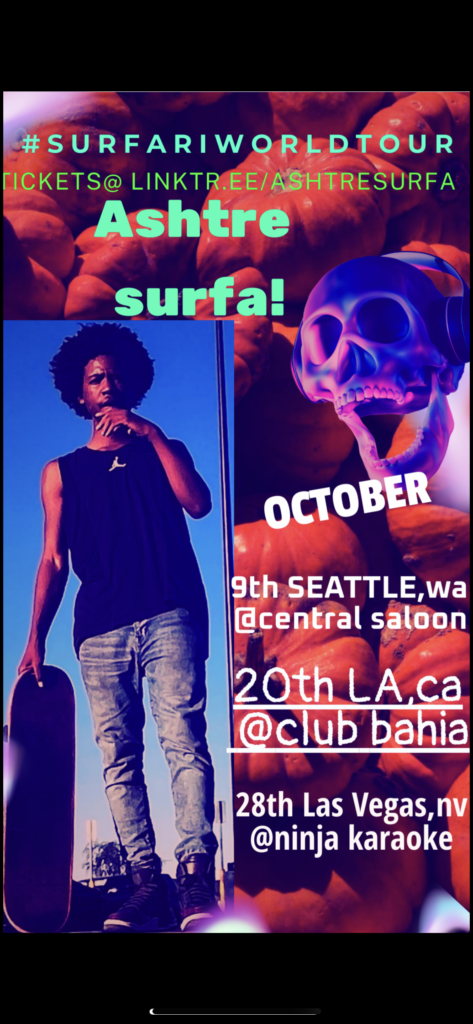 Standing tall on the strength and success of single and video combos like the laid-back yet inspiring Fade Away, Ashtre Surfa's mellow yet striking delivery and contemplative, relatable and refreshing lyrics make for a welcomed twist within the current hip hop landscape.
Having already mastered a live set in Las Vegas this month, October 9th will see him take on Seattle's Central Saloon, and October 20th welcomes the finely honed performer to LA's Club Bahia.
* * *
October 9th : Central Saloon 207 1st Ave S, Seattle, WA 98104
October 20th : Club Bahia, 1130 Sunset Blvd, Los Angeles, CA 90012

October 28th : Ninja Karaoke, Las Vegas
* * *
For easy access to tickets, fans can get in touch with Ashtre Surfa! via DM on Twitter & Instagram, otherwise click this link and use the code ASHTRE321 for discounted prices.
Find out more or check out the music here.