Presented by Born Fire Promotions in association with Reggae Vibes Music, renowned Rastafarian Anthony B hosts his unmissable Black and Proud concert, at the one and only Club Amazura in Queens, NY.
One of reggae-dancehall's most entertaining live performers, Anthony B stands tall on the back of a decades-long career; one that began in the nineties, with his debut single The Living Is Hard. In the years since, he's released over twenty studio albums, and has toured extensively across the globe.
The Black and Proud Concert was designed to coincide with Black History Month, and follows the release of Anthony's single of the same name; released in July, 2020, via Reggae Vibes Music.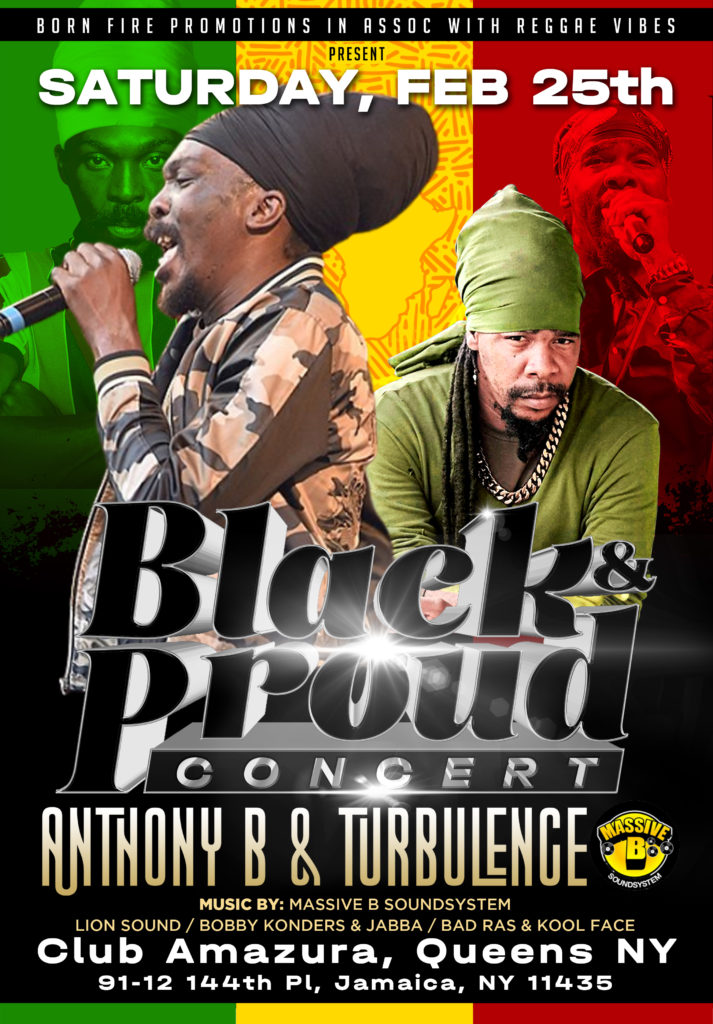 Black and Proud at Club Amazura promises a live-band show, uniting Anthony B with acclaimed performers Turbulence and Perfect Giddimani.
Also featuring music from DJ's Massive B Sound (Bobby Konders and Jabba of Hot 97) and Mountain Lion Sound, along with a plethora of guests and special guests yet to be announced, the line-up, venue, concept and timing combined promise a night categorically worth knowing about.
* * *
When? : Saturday 25th February, 10pm til 4am
* * *
Where? : Club Amazura, 91-12 144th Place, Queens, NY 11435
* * *
Early Bird Tickets are currently $55 via Eventbrite. Follow Anthony B on Facebook & Twitter to stay updated.