Introducing San Diego's fiercest femme-punk quartet, Doll Riot, who have sprung onto the scene in rapid fire this year.
Their debut three-track EP was full of high-energy, Garage-Rock chorus' that were instantly appealing with their simplistic construction and purposefully scrappy delivery. It showcased the Doll Riot manifesto clearly, channeling all their pent up frustrations into short and sharp direct hits of Riot Grrrl fury.
Now, their new single Get A Life has followed up in the same vain. At only 2 minutes and 20 seconds, this track wastes no time in getting its message across. Thick riffs barrel out of the traps and ring of true 70s Punk before the harsh vocal tones of Elena Olszak spit a venomous angsty flow of lyrics on top.
It is proper, raw Garage Rock at its purest and it is audibly evident that this can't have been written anywhere else than a cramped basement. Despite the harsh, rebellious onslaught and uncompromising lyrics, the band still leave room for a punchy chorus with big drum stabs and a unified call of "Get a life, ride a bike" that will make you want to chant the words back at the top of your voice.
These guys aren't for the faint hearted and they have more music coming soon…
Rising Alt Rockers Little Destroyer were building a solid following prior to lockdown thanks to their densely layered electro-influenced sound that always packs a punch. The band then went a little quiet over the last two years but they have now returned in emphatic form with two new singles in 2022.
hitman was the perfect reintroduction to their sound; gritty, in-your-face and full of swagger. It is a short and sharp slap around the face that will make you stand up and pay attention. The thick instrumental layers and cool female vocal attack will remind our UK fans of Black Honey.
Love and Anarchy then followed last month and demonstrated more of their atmospheric range. The cluttered electro opening sounds like it is about to enter a hypnotic Post-Punk spiral like the latest Fontaines D.C album's title track Skinny Fia. However, the atmosphere shifts into a confident Rock swell before soaring into an empowering chorus that has the otherworldly euphoria of Wolf Alice.
Although they are still an upcoming band, these guys don't have much more improvement to make before they are ready for that killer debut album and we can't wait for it!
Hailing from Manchester, UK, Synth-infused high-intensity outfit Sugarstone seem to have flicked a switch in recent months, swapping their undeniably catchy 80s influenced melodies for a snarling, supercharged blend of Alt Rock sounds and abstract, somewhat twisted, lyricism.
Following on from their last single That's Intense, which provides more than enough energy to live up to its title, the band are back with another new track, Happiness Is Hard to Find.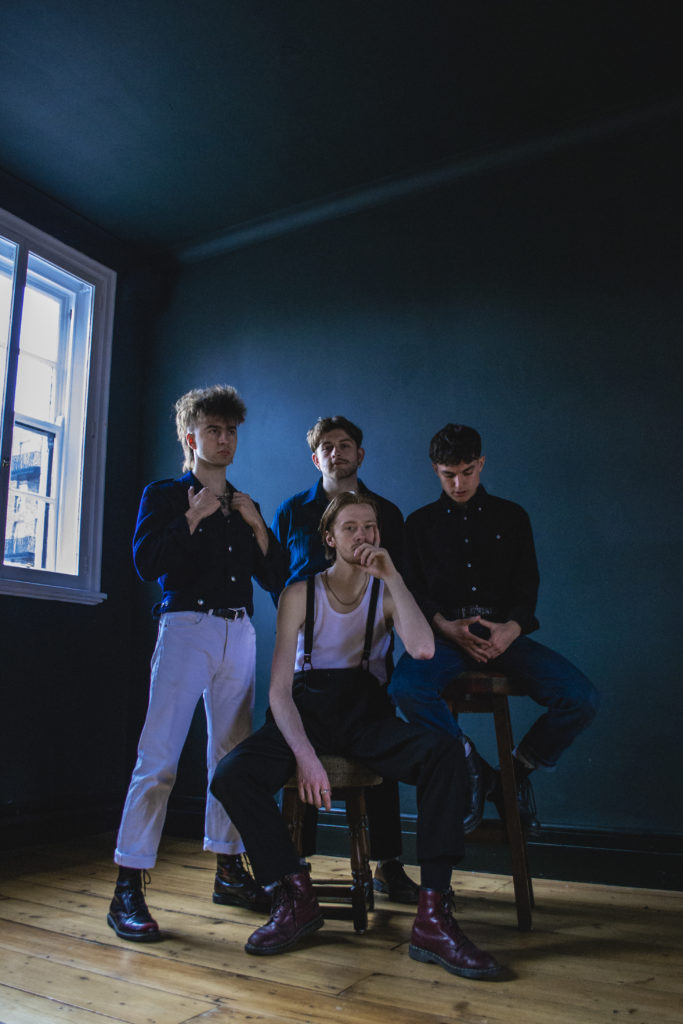 This new single is a true Alternative stomper. The drums really lead the charge on this one, providing a perpetual rolling motion and slightly off-kilter that is full of angsty power and captures the direct but slightly strange aesthetic that they radiate as a band.
The electronics play a huge part in this track too, flavouring it with dense waves of synths and deep, popping rhythms. The chorus is one of their strongest to date, placing their slick, performative vocal melodies on top of a danceworthy beat.
The guitar solo that follows the infectiously tense build-up adds the final finish to a hectic 4 minutes of whirl-winding electro-Rock energy. Just the thought of this song live will get any mosh-lovers drooling.
Self confessed tomato juice obsessive, Lana Roche, aims to combine the poetic French flare of her mother, with the deep Rock appreciation of her father, whilst blending in elements of her eclectic personality built from constant travelling and battles with sexual identity and mental health. You can hear this intended blend come through in her first release as it combines some melodic thoughtfulness with intense gritty atmospheres.
Inner Craze opens with a loose acoustic jangle that has hints of gloomy Grunge tones which are matched by Lana's dark and angsty vocal mumble. The track then explodes into an instrumental frenzy that does the song title justice. A thick wall of distortion sits in front of haunting vocal cries and a subtle synth melody.
When the vocals reemerge they carry an arrogant freedom, landing whenever they please with a confident growl reminiscent of Courtney Barnett's most punky numbers. Throughout the duration, the music is always loud and always dense. A harsh lead guitar pierces the sound later on to close the Whirlpool of noise with grand effect and leave a lasting mark.
A fantastically noisy debut that promises so much more in the months to come.
New York alt-rock quartet Quarters of Change have exploded in 2022 with four new releases (Without counting their contribution to the soundtrack for Netflix original series Race: Bubba Wallace) that have shot them to the next level!
First came Kiwi, a winding, guitar led number that flicks between entranced dream states, filled with layers of soft vocal harmonies, and sections of soaring guitars that cascade over one another build for an impressive instrumental finale that is worthy of finishing any live set. This was followed up by Jaded which begins relatively introspectively with audibly heartfelt vocals before bursting into an alternative anthem that captures the best elements of Weezer and adds a modern angsty twist with huge instrumental stabs and crisp, powerful vocals.
T Love came next and really cemented their place as one of the most exciting upcoming acts from the states. In what is becoming trademark style, it starts off with a relatively mellow indie sound. The vocals are smooth and melodic while the guitar flicks and mini-hooks just flavour the atmosphere with tuneful splashes. Yet, it builds with each chorus and by the final minute or so the track is driven by pounding drums, thick riffs and infectious vocal shouts that make this perfect for singing back live.
Chloe has recently completed this string of new music and again, it offers something slightly different. It is there most high-tempo track, opening instantly with a driving high-energy drum rhythm that gets you wanting to move from the first second. The blend of high and low vocal notes creates a tangled web of harmonies. There is less development in this track but this makes for a hypnotic effect as the words and rhythms continuously grow on you and provides a fantastic, dance worthy addition to their consistently high-quality discography.
Article by James at Boot Music.